Since 1972
Events
Banc Sabadell Shareholders Meeting 2018
36square metres of LED displays, live streaming, three languages and production of content
Banco Sabadell once again entrusted Sono Tecnología Audiovisual to carry out the audiovisuals for their shareholder meeting, held this year in Alicante for the firts time due to the company's change in registered headquarters.
The Auditorio de la Diputación of Alicante was chosen to host this corporate event, which brought together close to 1,200 people.
Comprehensive audiovisual technology
As in past occasions, Sono was tasked with providing the rentals of audiovisual systems and equipment, as well as suppliying know-how for integrating the technology needed for such an event.
There was an enormous 12 x 3.5 metre Absen A3 LED display with maximum image quality made up of 168 individual tiles and supported by a Layher ad hoc structure. A double video processor and a Barco Encore E2 content management system were used for image management.
The event was live-streamed with three professional Panasonic P2-3100 and was re-transmitted with sign language in three languages: Spanish, Catalan and English. A mirror-image teleprompter was also supplied.
Sono also undertook the production of video content with flash animations and audio clips. Duplicate media players were used for the corporate video in two language, and the three languages of the presentation (of both the principal and the back-up) were synchronised in Keynote.
Sound and lightning
The space was sound engineered with a L'Acoustic Kara electro-acoustic system, and it was managed with a Yamaha CL5 mixing desk. 14 KIVA loudspeakers were used, supported with DANTE audio protocol and standard IP packets over a standard Ethernet network.
More than 1,800 metres of fibre optic cable were used for data and signal streaming, and conventional lightning was used for the stage.
Adjoining rooms
Several adjoining rooms were prepared and equipped with audio and video to create the press room, a room for market data, a VIP suite and a back office. Furthermore, two adjoining rooms were made ready for the audience who responded to the Bank's call for the meeting.
The dinning room of the Ereta Restaurant, where the press were hosted in an event prior to the board meeting, was also provided with a sound system. Arount 30 professionals including specialist video, audio and lightning technicians played a role in carrying out the event.
Audiovisual equipment
Video:
An Absen A3 LED display measuring 12 x 3 metres
Three professional Panasonic P2-3100 cameras
A Barco E2 video manager
A Barco EC-200 mixing desk
A mirro-image teleprompter
Convenience monitors for the presidency
Production with three cameras and recording of the event
Audio:
14 L'Acoustic Kiva
8 L'Acoustic 5xt-2
2 L'Acoustic sb18
14 table microphones
8 wireless microphones
Press racks
Language interpreting and traslation with two double cabins
BARCELONA
C/ Progress,29
(Pol. Industrial Almeda)
08940 Cornellá de Llobregat
Barcelona
Tel. +34 934 801 000
E-mail sono@sono.es
MADRID
C/ Sepúlveda, 6 - Nave 26
(Pol. Industrial Alcobendas)
28108 Alcobendas (Madrid)
Tel. +34 916 624 217
E-mail sono@sono.es
SEVILLA
Cartuja Center CITE
C/ Leonardo da Vinci, 7
41092 Sevilla
Tel. +34 916 624 .217
+34 609 564 092
E-mail sono@sono.es
Subscribe to our

Newsletter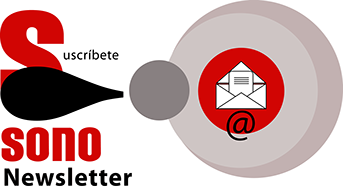 SONO TECNOLOGIA AUDIOVISUAL, S.L. As responsible for the treatment, your data will be processed in order to send you our newsletter with commercial news about our services. The legitimate basis is your consent which you can revoke at any time by notifying lopd@sono.es. No data will be transferred to third parties except legal obligation. You can access, rectify and delete your data, as well as exercise other rights by consulting the additional and detailed information on data protection in our Privacy Policy