Since 1972
Events
5Th Benefit Dinner – Portaventura Foundation
The event is part of the strategy of corporate social responsibility (CSR) and has raised 82.000 € for the fight against Alzheimer's disease.
Year after year the Portaventura benefit dinner increases the participation. This 5th edition gathered in the Convention Centre of PortAventura more than 1.000 guests: politicians, entrepreneurs, journalists and representatives from nonprofit organizations.
For this philanthropic event, the foundation has relied on Sono as AV services supplier providing:
Technical production, set up and stage management for the event
Rental of LED screens, video equipment, audio and lighting material.
Recording and live directing
The event staging was made up of large format led screes, without need of static printed or wooden graphic elements.
A massive LED Wall of Absen A7 of 10×3 meters served as background. With different designs and content, it put in context every part of the event and also produced spectacular effects for the shows taking place.
At both sides of the stage, Sono installed two led screens more Absen A7, but in vertical format, of 4 meters wide and 4,5 high. These displays made easier to attendees follow everything with live event directing.
BARCELONA
C/ Progress,29
(Pol. Industrial Almeda)
08940 Cornellá de Llobregat
Barcelona
Tel. +34 934 801 000
E-mail sono@sono.es
MADRID
C/ Sepúlveda, 6 - Nave 26
(Pol. Industrial Alcobendas)
28108 Alcobendas (Madrid)
Tel. +34 916 624 217
E-mail sono@sono.es
SEVILLA
Cartuja Center CITE
C/ Leonardo da Vinci, 7
41092 Sevilla
Tel. +34 916 624 .217
+34 609 564 092
E-mail sono@sono.es
Subscribe to our

Newsletter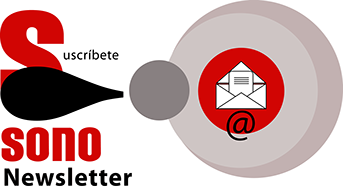 SONO TECNOLOGIA AUDIOVISUAL, S.L. As responsible for the treatment, your data will be processed in order to send you our newsletter with commercial news about our services. The legitimate basis is your consent which you can revoke at any time by notifying lopd@sono.es. No data will be transferred to third parties except legal obligation. You can access, rectify and delete your data, as well as exercise other rights by consulting the additional and detailed information on data protection in our Privacy Policy