Since 1972
Scenography
TV
Audiovisual scenography for the new talent show on Antena 3
The new talent show on Antena 3, produced by Gestmusic Endemol, maintains the essence and structure of the sceno – graphy that was already in use Tu cara me suena (Your Face Looks Familiar). Sono is the audiovisual technology provider of this show, and provided technical assistance to all its episodes.
Material and audiovisual equipment employed
The background of the stage set is made up of nine vertical totems of 6mm Barco ILite XP displays. Seven of these have 16 tiles measuring 0.9 x 3.58 metres and two have 22 tiles measuring 4.93 x 0.93 metres, and which are all perfectly integrated.
The two sides displays are 3.9mm Absen A3 Pro LED screens and 9×5 tiles that permit a quality image. The Absen A3 Pro is a slim and light interior panel with high contrast and intense blacks, and can be rapidly installed. Its pixel calibration guarantees colour precision and brightness uniformity throughout the display.
In the area of the arches, where the contestants enter the stage, 320×320 adaptable LED curl modules were used. In total there are 60 two-strip units. The 728 mini modules that cover the access stairs to the stage were LED Olite 510 modules, and were fitted evenly between the steps.
Lastly, for the jury table a plasma wall was used. This was formed of three, 46" LCD-LED displays with a depth of 6.9cm and a separation between displays of just 3.5mm.
Mosaic of hanging displays
In some of the acts it was possible to see a mosaic of four, front projection screens of differet size, hanging in the air. Onto these images were projected from two BARCO HDX W20 FLEX projectors, in order to complete the scene and give more audiovisual presence to the stage.
The sequel to Tu Cara Me Suena, which was premiered on March 10, can be seen every Friday at prime time on Antena 3 television. The peculiarity of this new format stems from the talent for imitating well-known artists and celebrities. This time though, the talent is from unknown participants who will soon not be so anonymous.
BARCELONA
C/ Progress,29
(Pol. Industrial Almeda)
08940 Cornellá de Llobregat
Barcelona
Tel. +34 934 801 000
E-mail sono@sono.es
MADRID
C/ Sepúlveda, 6 - Nave 26
(Pol. Industrial Alcobendas)
28108 Alcobendas (Madrid)
Tel. +34 916 624 217
E-mail sono@sono.es
SEVILLA
Cartuja Center CITE
C/ Leonardo da Vinci, 7
41092 Sevilla
Tel. +34 916 624 .217
+34 609 564 092
E-mail sono@sono.es
Subscribe to our

Newsletter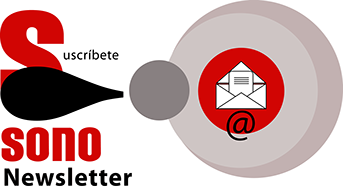 SONO TECNOLOGIA AUDIOVISUAL, S.L. As responsible for the treatment, your data will be processed in order to send you our newsletter with commercial news about our services. The legitimate basis is your consent which you can revoke at any time by notifying lopd@sono.es. No data will be transferred to third parties except legal obligation. You can access, rectify and delete your data, as well as exercise other rights by consulting the additional and detailed information on data protection in our Privacy Policy