Since 1972
Events
Vodafone II Study on Business Digitalization
Large-format LED curved screen assembly for the presentation of Vodafone II study on business digitalization in Madrid
Vodafone organized an encounter for the specialized press in the Gabriela Mistral Auditorium at Casa de América in Madrid to present its second study about state of digitalization of Spanish companies and public administrations, within the framework of the Observatorio Vodafone de las Empresas. For the stating it was decided to conceptualize and scenario formed by a large curved screen 23 meters wide by three high offering a resolution of almost 5k.
Curved LED display, sorround and innovative effect
The system of wedges with which the LED modules are assembled allows to create concave or convex shapes, according to the anchoring angle, achieving spectacular stage composition and, above all, easy assembly.
On this occasion, the concave curvature of the screen offered maximum visibility to the attendees from all positions, turning the space into an immersive stage with an oblique base The content management on the screen was carried out with Barco E2 system and EC200 controller.
Sound adaptation, lightning and streaming
In addition to the installation of the audiovisual equipment, Sono also took charge of the sound adaptation of the auditorium with L'Acoustic equipment, X12, 5XT acoustic cabinets, Sb18 subwoofers and power stages.
The light control of the room was made with Chamsys MQ500 lightning console, which was responsible for managing the stage hot spots, the theatre spotlights as well as the four LED spot moving heads LUMA 1500, a pair of Lumipar 18Q UO65 leds and rest of 15 pair LED wifi Smartbar.
Sono was also in charge of carrying out the recording and broadcasting of the event that could be followed in streaming through the social networks of Vodafone (Youtube, Facebook Live and Periscope).
The report of the Vodafone Observatory revealed the growing interest on the part of Spanish companies to incorporate systems based on the latest digital technologies (cloud, Internet of Things and Big Data).
However, despite the increased awareness of the need to incorporate the digital transformation, Spanish companies, according to the study, continue to prioritize investments in security and connectivity. This second report maintains the Public Administrations as the most aware of the digitalization.
BARCELONA
C/ Progress,29
(Pol. Industrial Almeda)
08940 Cornellá de Llobregat
Barcelona
Tel. +34 934 801 000
E-mail sono@sono.es
MADRID
C/ Sepúlveda, 6 - Nave 26
(Pol. Industrial Alcobendas)
28108 Alcobendas (Madrid)
Tel. +34 916 624 217
E-mail sono@sono.es
SEVILLA
Cartuja Center CITE
C/ Leonardo da Vinci, 7
41092 Sevilla
Tel. +34 916 624 .217
+34 609 564 092
E-mail sono@sono.es
Subscribe to our

Newsletter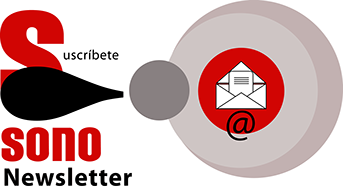 SONO TECNOLOGIA AUDIOVISUAL, S.L. As responsible for the treatment, your data will be processed in order to send you our newsletter with commercial news about our services. The legitimate basis is your consent which you can revoke at any time by notifying lopd@sono.es. No data will be transferred to third parties except legal obligation. You can access, rectify and delete your data, as well as exercise other rights by consulting the additional and detailed information on data protection in our Privacy Policy