Since 1972
Events
VI Edition Of The Esteve Awards In Madrid
High resolution LED screens, video mapping and streaming for an eye-catching stage show at the Palacio Neptuno in Madrid.
High resolution LED screens, video mapping and streaming for an eye-catching stage show at the Palacio Neptuno in Madrid.
ESTEVE held the 6th edition of its "United by patient care" awards and the "Chronic Patient Care" Health Innovation Grant in Madrid. The venue chosen was the Palacio Neptune, and Sono was tasked with the audiovisual services for the event. The ceremony was presented by the journalist Esther Vaquero and there were representatives from the health ministry in the Autonomous Community of Madrid. Several areas of the Palacio Neptuno were used: the Venus room, the Eunice room and the Calipso room, which held 340 attendees.
Venus room
An eye-catching stage show was laid on in the main room, with audiovisual technology and spectacular lighting. The presenter conducted the event from a lectern with integrated touchscreen (60" vertically-mounted monitor) which dis-played the name of speakers and other relevant data.
Sono installed a free-standing 6 x 3 metre Absen A3 Pro LED display with a high 3.9mm resolution, which provided an excellent image. Content included video, images, and text presentations of the different projects. As the Venus room has numerous structural pillars, Sono placed five 50" monitors in the room so that all of the attendees could see correctly.
The gala was rounded off with a spectacular video mapping dance. Coordination was needed as there was an LED display as backdrop to the stage and projection from a 14,000 lumen Christie Roadster HD14K-M. With this combination of technology, we managed to achieve an effect whereby the dancers were really immersed in the show.
Other spaces
The Eunice room is above the Venus room, and was used as a reception area for the members of the jury and the finalists moments before the prize giving ceremony began. This room was equipped with the latest generation sound system, which meant that all the attendees were able to follow the ceremony. The gala dinner was held in the Calipso room, which Sono equipped with spectacular lighting.
Streaming service for the event
Sono also facilitated the recording and live streaming of the whole event.
The ESTEVE Awards are well-known in the healthcare sector. This VI edition was a great success, with the participation of 251 projects presented in three areas: Medicine, Pharmacy and Nursing, and also grant awards.
BARCELONA
C/ Progress,29
(Pol. Industrial Almeda)
08940 Cornellá de Llobregat
Barcelona
Tel. +34 934 801 000
E-mail sono@sono.es
MADRID
C/ Sepúlveda, 6 - Nave 26
(Pol. Industrial Alcobendas)
28108 Alcobendas (Madrid)
Tel. +34 916 624 217
E-mail sono@sono.es
SEVILLA
Cartuja Center CITE
C/ Leonardo da Vinci, 7
41092 Sevilla
Tel. +34 916 624 .217
+34 609 564 092
E-mail sono@sono.es
Subscribe to our

Newsletter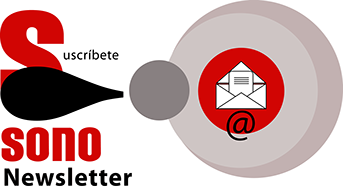 SONO TECNOLOGIA AUDIOVISUAL, S.L. As responsible for the treatment, your data will be processed in order to send you our newsletter with commercial news about our services. The legitimate basis is your consent which you can revoke at any time by notifying lopd@sono.es. No data will be transferred to third parties except legal obligation. You can access, rectify and delete your data, as well as exercise other rights by consulting the additional and detailed information on data protection in our Privacy Policy