Since 1972
Scenography
TV
"The Number One" (Gestmusic)
The new talent show, The Number One, is produced by Gestmusic and presented by Paula Vázquez. The opening show was screened on Antena 3 at primetime last March, and had a grand jury made up of none other than Miguel Bosé, Ana Torroja, Sergio Dalma, David Bustamante and Natalia Jiménez.
Services:
SONO collaborated with installing the audiovisual equipment that are built into the stage set and with technical assistan – ce for this equipment.
Technology employed:
Barco DLite7 LED screens measuring 3.60 x 5.40m.
Element Labs-Barco versatubes fitted to the structure at the back of the stage with video texture screenings fully synchronised with the other projections.
1500mm Barco Mistrips fitted into the floor of the circular stage. Apart from the contestants' area, they were also fitted above two symmetrical structures and distributed on columns. Video texture is screened in both areas and is synchro – nised with the other projections on the stage.
17 and 19metre long concave arcs, with 2×1 Martin LC series LED modules in vertical format. These arcs can rise or fall during the performance at the same time as synchronised video textures and images are screened.
Signal transmission to the different parts of the assembly with DVI fibre optic systems.
Integration of the different signal processors to the different products: P3, Vizomo, D320PL Barco, etc.
BARCELONA
C/ Progress,29
(Pol. Industrial Almeda)
08940 Cornellá de Llobregat
Barcelona
Tel. +34 934 801 000
E-mail sono@sono.es
MADRID
C/ Sepúlveda, 6 - Nave 26
(Pol. Industrial Alcobendas)
28108 Alcobendas (Madrid)
Tel. +34 916 624 217
E-mail sono@sono.es
SEVILLA
Cartuja Center CITE
C/ Leonardo da Vinci, 7
41092 Sevilla
Tel. +34 916 624 .217
+34 609 564 092
E-mail sono@sono.es
Subscribe to our

Newsletter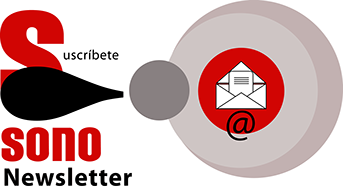 SONO TECNOLOGIA AUDIOVISUAL, S.L. As responsible for the treatment, your data will be processed in order to send you our newsletter with commercial news about our services. The legitimate basis is your consent which you can revoke at any time by notifying lopd@sono.es. No data will be transferred to third parties except legal obligation. You can access, rectify and delete your data, as well as exercise other rights by consulting the additional and detailed information on data protection in our Privacy Policy