Since 1972
Events
'Somos Uno' Day Of Solidarity by Invest for Children
Audiovisual services for the Invest for Children gala dinner at the RCD Espanyol stadium in Cornellà
Once again,Sono Tecnología Audiovisual were tasked with supplying the audiovisual equipment and the staff for running the closing dinner of the sixth 'Somos Uno' day of solidarity, organized by Invest for Children. It was an evening in aid of the inclusion of people with intellectual disability into the labour market, of the battle against Alzheimer's, and of research into rare and serious child diseases.
Sono took care of the audiovisuals, installing 14, 50" displays, two 103" plasma screens, a rack and 16:9 HD control of two cameras in order to give full coverage to the event. The company also supplied sound equipment, including 18 loudspeakers, a mixer and michophones for those speaking. Background lightning was provided with four Fresnels, 14 Clay Paky Mythos and a control desk.
The event was presented by Santi Millán and Javi Sancho, and was attended by 1,300 people. The aim was to raise funds and collaborate with social iniatives for entities such as Pasqual Maragall,Hospital Sant Joan de Déu, Fundación Damm and Aura Fundación.
BARCELONA
C/ Progress,29
(Pol. Industrial Almeda)
08940 Cornellá de Llobregat
Barcelona
Tel. +34 934 801 000
E-mail sono@sono.es
MADRID
C/ Sepúlveda, 6 - Nave 26
(Pol. Industrial Alcobendas)
28108 Alcobendas (Madrid)
Tel. +34 916 624 217
E-mail sono@sono.es
SEVILLA
Cartuja Center CITE
C/ Leonardo da Vinci, 7
41092 Sevilla
Tel. +34 916 624 .217
+34 609 564 092
E-mail sono@sono.es
Subscribe to our

Newsletter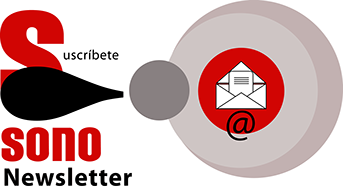 SONO TECNOLOGIA AUDIOVISUAL, S.L. As responsible for the treatment, your data will be processed in order to send you our newsletter with commercial news about our services. The legitimate basis is your consent which you can revoke at any time by notifying lopd@sono.es. No data will be transferred to third parties except legal obligation. You can access, rectify and delete your data, as well as exercise other rights by consulting the additional and detailed information on data protection in our Privacy Policy