Since 1972
Events
People In Red | Fight Against Aids Foundation
Sono audiovisual provider for the charity gala People in Red of the Foundation Fight againts AIDS
The Foundation fights against AIDS held on November 19 its charity People in Red to raise funds for research in the prevention and cure of HIV. The event, which took place at the MNAC (National Museum of Art of Catalonia) in Barcelona, brought together more than 800 people, including celebrities and personalities from business ans institutional and civil society, in a gala full of performances that could also be continue live streaming, thus maximizing the dissemination and the impact of the collection of micro donations.
Audiovisual management and simultaneous sound reinforcement
Sono Tecnología Audiovisual was the audiovisual provider in charge of carrying out the event, installing 324 tiles of 4.8 mm LED screen, 81 m2, distributed in four locations within the oval room and where during the evening they were interspersed with different actions. Sono also contributed the management and routing of the Mediapro signals for the audiovisual managment of the contents on the screen, including the broadcasting of live video over the Internet.
The space with sound system L'Acoustic Kara, Kiva and Wifo was audited and the routing of signals was facilitated to achieve the simultaneity of the voicing of the space in all its zones. Mixel Digico, Yamaha and Midas were used to manage and regulate the sound of the performances.
The spectacular show directed by the television producer Toni Cruz had the presence of Jesús Vázquez as ambassador an host of a gala that count with the presence of the humorists Carlos Latre, Juan Carlos Ortega, Javier Sardá and the Morancos. Antonio Orozco, Amaia and Alfed García were other artists that performed at the gala, in addition to David Bisbal who was in charge of bringing a fabulous close to the gala.
The funds raised will go to three key points of the research: preventive vaccines, diseases related to HIV and the microbiome and new treatments and resistance for a disease that continues to affect more than 37 million people in the world.
BARCELONA
C/ Progress,29
(Pol. Industrial Almeda)
08940 Cornellá de Llobregat
Barcelona
Tel. +34 934 801 000
E-mail sono@sono.es
MADRID
C/ Sepúlveda, 6 - Nave 26
(Pol. Industrial Alcobendas)
28108 Alcobendas (Madrid)
Tel. +34 916 624 217
E-mail sono@sono.es
SEVILLA
Cartuja Center CITE
C/ Leonardo da Vinci, 7
41092 Sevilla
Tel. +34 916 624 .217
+34 609 564 092
E-mail sono@sono.es
Subscribe to our

Newsletter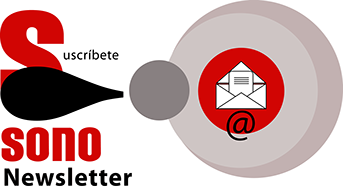 SONO TECNOLOGIA AUDIOVISUAL, S.L. As responsible for the treatment, your data will be processed in order to send you our newsletter with commercial news about our services. The legitimate basis is your consent which you can revoke at any time by notifying lopd@sono.es. No data will be transferred to third parties except legal obligation. You can access, rectify and delete your data, as well as exercise other rights by consulting the additional and detailed information on data protection in our Privacy Policy