Desde 1972
Scenography
Television
"Operación Triunfo" (Gestmusic)
The show returns in 2011 with a completely revitalised spirit adapted to modern times but with the objective of recapturing the original essence of one of the most revolutionary formats in the history of television, ten years after it first hit the screens in Spain. 
Services provided:
The installation that has several audiovisual equipment, integrated into the set design, projection of video images and textures. Distributed as follows: It has covered an area of 200m2 as background scenario ​​ with flexible space structures adapted semitransparent LEDs, in the main part of it are 6 columns of moving LED 5.4 x 0.9m. In the center of the set we see a 5m platform diameter in which LEDs are integrated in the floor under the tile transparent and whose central part is machined and gives rise. In the area where the contestants are installed 50 vertical strips of 3m high LED set to set. Behind jury has installed a video wall of 18 monitors. Finally at the top of the set find two LED screens, which serve as reference for the audience and contestants.
Technology employed:
Moving columns of stage LEDs: BARCO DLite7 (14mm pixel pitch) LED screen.
Central platform: Mipix BARCO on a purpose-built structure.
LED structures for the contestants' zone: Mistrips BARCO (13.2mm pixel pitch)
Stage back-drop: Helix P1 BARCO on purpose-built flexible structures (150mm pixel pitch)
Jury zone: Video wall CRT BARCO screens with ELECTROSONIC VECTOR.
Screens for the audience: ILite6XP BARCO (6mm pixel pitch)
BARCELONA
C/ Progress,29
(Pol. Industrial Almeda)
08940 Cornellá de Llobregat
Barcelona
Tel. +34 934 801 000
E-mail sono@sono.es
MADRID
C/ Sepúlveda, 6 - Nave 26
(Pol. Industrial Alcobendas)
28108 Alcobendas (Madrid)
Tel. +34 916 624 217
E-mail sono@sono.es
SEVILLA
Cartuja Center CITE
C/ Leonardo da Vinci, 7
41092 Sevilla
Tel. +34 916 624 .217
+34 609 564 092
E-mail sono@sono.es
Subscribe to our

Newsletter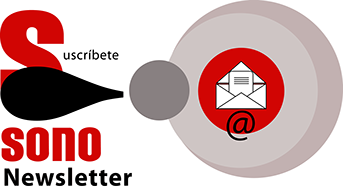 SONO TECNOLOGIA AUDIOVISUAL, S.L. As responsible for the treatment, your data will be processed in order to send you our newsletter with commercial news about our services. The legitimate basis is your consent which you can revoke at any time by notifying lopd@sono.es. No data will be transferred to third parties except legal obligation. You can access, rectify and delete your data, as well as exercise other rights by consulting the additional and detailed information on data protection in our Privacy Policy