Desde 1972
Audiovisual
Contents
Sono collaborates with Itaca with a surrounding audio visual setup for product launch events.
For the presentation of the new collection of light switches SKY, the brand Niessen of ABB has organized different events in Spain under the motto "Tocarás el cielo con las manos" ("You'll touch the sky woth your hands").
Niessen culminates the celebration of its centenary with this product launch. Sono has taken part as AV services provider in both big events held in Madrid and Barcelona. The Círculo de Bellas Artes, in Madrid, and the Casa Llotja de Mar, in Barcelona, were the venues for the pre – sentation to interior designers, decorators and media.
The events agency Itaca conceived and impressive event, following the elegant and futuristic character of the new products of the client. From a technical point of view, it was contemplated a surrounding and immersive audio visual solution consisting of a video mapping and a LED curtain perimeter, reinforce by a spectacular sound system.
Sono has provided AV consultory, lighting, sound and video rental equipment, installation and technical assistance.
About the employed AV technology, we highlight:
Projection system for video mapping over 3D background of 12 x 5 meter with two projectors Barco HDX-W20 FLEX of 20.000 lumens
Video source management with presentation system Folsom Encore and Watchout for video mapping and live PiP.
AV decoration set for perimeter with LED curtain of 31 mm
Wireless microphones and audio system with L'Acoustic line Array
Spectacular lighting
BARCELONA
C/ Progress,29
(Pol. Industrial Almeda)
08940 Cornellá de Llobregat
Barcelona
Tel. +34 934 801 000
E-mail sono@sono.es
MADRID
C/ Sepúlveda, 6 - Nave 26
(Pol. Industrial Alcobendas)
28108 Alcobendas (Madrid)
Tel. +34 916 624 217
E-mail sono@sono.es
SEVILLA
Cartuja Center CITE
C/ Leonardo da Vinci, 7
41092 Sevilla
Tel. +34 916 624 .217
+34 609 564 092
E-mail sono@sono.es
Subscribe to our

Newsletter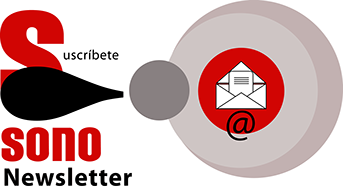 SONO TECNOLOGIA AUDIOVISUAL, S.L. As responsible for the treatment, your data will be processed in order to send you our newsletter with commercial news about our services. The legitimate basis is your consent which you can revoke at any time by notifying lopd@sono.es. No data will be transferred to third parties except legal obligation. You can access, rectify and delete your data, as well as exercise other rights by consulting the additional and detailed information on data protection in our Privacy Policy