Desde 1972
Fixed
Facilities
Museological Preservation Fort Marlborough (Menorca)
Sono was entrusted with the project of restoration for the museological preservation of the Fort Marlborough. New equipment was incorporated and the existing museological elements were restored. The visit itinerary is complemented with interactive multimedia, which allow the display of different content and the synchornization of the audiovisuals.
Services:
Re-design and adapt the museological project, for the supply and installation of the audio-visual equipment, programming of the control system and the digital signage contents. SONO also executed the display of audio-visual content in 7 languages, restoration of the existing atrezzo elements and design and installation of visits signage.
Technology employed:
Control System that allows the daily operative of the museum with simple and quick interface.
System with multimedia guides which synchronizes the different devices with the audio-visual content.
Wi-Fi network for control and synchrony of the multimedia guides.
Slim frames monitors and HD players
Multi-screen 1×3 projection with synchrony between the three projectors.
Virtual projection with hologram effect.
Museological atrezzo with automatism and lighting and audio effects.
BARCELONA
C/ Progress,29
(Pol. Industrial Almeda)
08940 Cornellá de Llobregat
Barcelona
Tel. +34 934 801 000
E-mail sono@sono.es
MADRID
C/ Sepúlveda, 6 - Nave 26
(Pol. Industrial Alcobendas)
28108 Alcobendas (Madrid)
Tel. +34 916 624 217
E-mail sono@sono.es
SEVILLA
Cartuja Center CITE
C/ Leonardo da Vinci, 7
41092 Sevilla
Tel. +34 916 624 .217
+34 609 564 092
E-mail sono@sono.es
Subscribe to our

Newsletter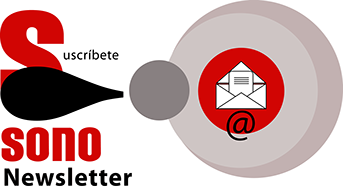 SONO TECNOLOGIA AUDIOVISUAL, S.L. As responsible for the treatment, your data will be processed in order to send you our newsletter with commercial news about our services. The legitimate basis is your consent which you can revoke at any time by notifying lopd@sono.es. No data will be transferred to third parties except legal obligation. You can access, rectify and delete your data, as well as exercise other rights by consulting the additional and detailed information on data protection in our Privacy Policy