Desde 1972
Fixed
Facilities
Meeting Rooms: New Gore-Tex Corporate Headquarters
The audiovisual integration of the new offices included 15 rooms and a digital signage system.
The American multinational WLGore & Associates,best known for its Gore-Tex brand of clothes and footwear, has moved its headquarters to a building in the Glòries area in the centre of Barcelona.
Via AOS Spain, Sono was tasked with the audiovisual integration of the project for the new headquarters. Works included: audiovisual consultancy from the beginning of the project, design of the installation, supply of new equipment and dismantling, transport and custody of the client equipment to be reused; installation, configuring and programming of the 15 meeting rooms (3 of which were of a modular panel construction, and could be converted into one large room, and another was a video conference room) and a system of digital signage.
Among the more notable audiovisual technology employed were the Epson projection system, Sharp and Samsung professional displays, JBL sound system and Shure microphones.
Ease of use and complete control by the user
For this high technology installation the client needed a guarantee that it would be easy to use for the final user. They also wanted a seamless solution without cabling and socket adapters in view.
A latest generation Crestron control system including audio and video matrix switches, offers the user total control of the rooms, permits full HD video and audio transmission per category, and can lengthen signals up to 100m. Thanks to its room reservation system, Crestron Fusion, the client can manage room availability rapidly and simply.
Once in the room, the user controls all the audiovisual systems, whether from a wireless 10" touchscreen in the case of the main rooms, or from a smaller screen which is built into the connection box in the other more simple rooms. A
ll the rooms have a built-in connection box with retractable cabling. This functionality means that all the cables necessary to connect to the audiovisual system are available to the user, while allowing the table to be completely free of those cables that are not in use.
In order to homogenise the control system with other international offices of Gore, an interface was used that has a simple and understandable design , which allows the user to control the meeting room with just a pair of clicks.
Collaborative presentation system
The user can connect to the projector to give a presentation via wifi by means of the Air Media system without the need for cables. This wireless presentation system permits up to four users to connect at the same time and to partition the image in order to give each user space on screen.
Digital signage
As well as the different rooms, Sono implemented a digital signage system with Samsung displays. Combined with the Magic Info Lite system, this facilitates the content management of image and video, and also automates the turning on and off of the devices from the local network.
BARCELONA
C/ Progress,29
(Pol. Industrial Almeda)
08940 Cornellá de Llobregat
Barcelona
Tel. +34 934 801 000
E-mail sono@sono.es
MADRID
C/ Sepúlveda, 6 - Nave 26
(Pol. Industrial Alcobendas)
28108 Alcobendas (Madrid)
Tel. +34 916 624 217
E-mail sono@sono.es
SEVILLA
Cartuja Center CITE
C/ Leonardo da Vinci, 7
41092 Sevilla
Tel. +34 916 624 .217
+34 609 564 092
E-mail sono@sono.es
Subscribe to our

Newsletter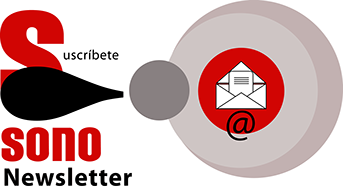 SONO TECNOLOGIA AUDIOVISUAL, S.L. As responsible for the treatment, your data will be processed in order to send you our newsletter with commercial news about our services. The legitimate basis is your consent which you can revoke at any time by notifying lopd@sono.es. No data will be transferred to third parties except legal obligation. You can access, rectify and delete your data, as well as exercise other rights by consulting the additional and detailed information on data protection in our Privacy Policy