Desde 1972
Fixed
Facilities
Management project, installations of Venezuela Pavilion & Chile Pavilion
– Spain Pavilion: Sono produced audio- visual shows all and every set of control systems and broadcast flag, which, through four distinct exhibition areas (Knowing, Loving, use, preserve), were narrated the basic forms of relationship between Man and the Sea, each of these four areas available differentiated and unique audiovisual shows. Every available room automation, lights and projections synchronized and controlled by an integrated system that offered a spectacular and impressive show. Sono audiovisual developed its role in the Pavilion of Spain commissioned by Macua and Garcia-Ramos.
– Algeria Pavilion: SONO provided the equipment and the production of content. Noteworthy is the videowall of 84 monitors, in sync with the lateral projection screens, 25 feet long with images of Algerian landscapes. Show an envelope with three sides projections inside a trunk pyramid also created. The system used both regulated and controlled lights and scenery lines on screen as 28 and 2 slide projectors synchronized video images with ambient music. The show will explain the main aspects of culture, sport, industry and other sectors Algerians. It was of an audiovisual multi with video integration. The work done in the pavilion were hired by the Algerian Go- vernment.
– Chile Pavilion: Visitors were on a tour during which they could contemplate Chilean landscapes, "scale" ranges … They could then watch an audiovisual pre- sentation that allowed the public stand on the political map of the 13 regions of the country and visit galleries decora- ted with documents, text, elements of maritime navigation, representations of Indian mythology related to the sea … During the tour of the various galleries and spaces, a complete audio installation allowing the viewer perceived visually integrate with related sounds, protruding the message of the exhibition concepts. Sono developed its work in Chile Pavilion Custom Design museographic no Architecture.
– Venezuela Pavilion: Venezuela Pavilion intended as a metaphorical reconstruction of the environment: "The Water Cycle". It was based on a synthetic spatial concept that was a wrap party all around the visitors. The pavilion consisted of three thematic areas: Rain, River and Sea, and called by the Digital Living Room, from which was accessed Offices and Services. In this pavilion, Sono made audiovisual production and installation of monitors, projectors, large video projectors, high contrast, featuring a multi-screen audiovisual shocking … The audiovisual work in the Pavilion of Venezuela were made by order of Government of Venezuela (Repu- blic of Venezuela, Lisbon Expo 98 Foundation).
BARCELONA
C/ Progress,29
(Pol. Industrial Almeda)
08940 Cornellá de Llobregat
Barcelona
Tel. +34 934 801 000
E-mail sono@sono.es
MADRID
C/ Sepúlveda, 6 - Nave 26
(Pol. Industrial Alcobendas)
28108 Alcobendas (Madrid)
Tel. +34 916 624 217
E-mail sono@sono.es
SEVILLA
Cartuja Center CITE
C/ Leonardo da Vinci, 7
41092 Sevilla
Tel. +34 916 624 .217
+34 609 564 092
E-mail sono@sono.es
Subscribe to our

Newsletter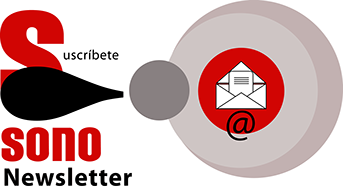 SONO TECNOLOGIA AUDIOVISUAL, S.L. As responsible for the treatment, your data will be processed in order to send you our newsletter with commercial news about our services. The legitimate basis is your consent which you can revoke at any time by notifying lopd@sono.es. No data will be transferred to third parties except legal obligation. You can access, rectify and delete your data, as well as exercise other rights by consulting the additional and detailed information on data protection in our Privacy Policy