Since 1972
Events
Libbs Laboratory 2017 Sales Convention
A 40 metre wide projection and a spectacular show with more than 300 kinetic laser-synchronised spheres.
This Brazilian multinational pharmaceutical company has once again entrusted Sono as audiovisual provider , for its sixth sales convention. It was held for the second year running in Punta Umbría near Huelva, and was attended by 1,300 people.
Sono, in collaboration with grupo Marva and the Zum Brasil agency, were tasked with bringing their experience and knowhow to the event with regard to the full integration of the elements of technology that were needed to cover the event. An event of such magnitude, with four pre-production desks was a real challenge that Sono met once again with an excellent solution.
Large format projection
For the main room a large, 40 metre wide projection screen was installed, with images coming from eight 20,000 lumen Barco HDX projectors equipped as standard with a light-on-demand option for flexible light output. Content was managed with a Watchout and Barco E2 system in order to achieve a better image quality and total control of the different elements making up the presentation and the show. The sound was provided by a L'Acoustic Kara 5.1 system and an SB 28.
In order to carry out the product launches, more than 50 metres of HD LED screen were set up with content management via Barco E2, to give it maximum dynamics. In this case, there was a L'Acoustic Kiva line array for sound. More than 100 displays, 150 laptops, projection flipcharts and other accessories were supplied for group meetings in the breakout rooms. Sono was tasked with setting up the stage, and for providing technical assistance for the live acts that were held during the dinners and cocktails events outside the convention hotel.
Kinetic LED Balls or the explosion of light and colour
It was without doubt most visually dramatic part of the event, and an opportunity for Sono to showcase the real potential of this recently acquired product. The moving LED spheres –Kinetic LED Lights– are designed to stun the audience and their possibilities with regard to effects, sketches and programmable structures are multiple.
On this occasion around 300 RGB spheres were used, each being connected to a DMX motorand managed via a Full Size GrandMa light desk in order to apply the different configurations and movement programming. The dance of light and colour was strengthened with 10 laser machines, managed with Laser Animation in time to the music to create the final act of the event. All this was amplified with 100 spotlights and eight smoke machines to create an immersive experience. It has to be seen.
BARCELONA
C/ Progress,29
(Pol. Industrial Almeda)
08940 Cornellá de Llobregat
Barcelona
Tel. +34 934 801 000
E-mail sono@sono.es
MADRID
C/ Sepúlveda, 6 - Nave 26
(Pol. Industrial Alcobendas)
28108 Alcobendas (Madrid)
Tel. +34 916 624 217
E-mail sono@sono.es
SEVILLA
Cartuja Center CITE
C/ Leonardo da Vinci, 7
41092 Sevilla
Tel. +34 916 624 .217
+34 609 564 092
E-mail sono@sono.es
Subscribe to our

Newsletter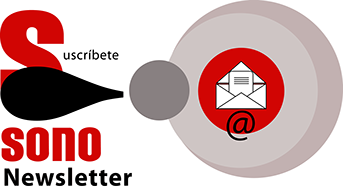 SONO TECNOLOGIA AUDIOVISUAL, S.L. As responsible for the treatment, your data will be processed in order to send you our newsletter with commercial news about our services. The legitimate basis is your consent which you can revoke at any time by notifying lopd@sono.es. No data will be transferred to third parties except legal obligation. You can access, rectify and delete your data, as well as exercise other rights by consulting the additional and detailed information on data protection in our Privacy Policy