Since 1972
Events
Iese Global Alumni Reunion
Large format projection, cutting-edge sound and lighting for the annual alumni event for IESE Madrid
As specialists in the integration of audiovisual services for large events, Sono was tasked with supplying the audiovisual equipment and the technical assistance for the staging of this event run by Emotion Technologies. It was a ten-hour, full-day held in the Palacio de Congresos Municipal in Madrid, with 2,000 former students of the organisation.
Edge Blending for large format projection
The stage set was formed of three large-format projection screens. There were two at the sides measuring 4.8 x 7 metres, which were tilted, and a central one covering 43.4 square metres. The projection system was made up of four 20,000 lumen Barco HDX FLEX projectors, two of which were calibrated for edge blending to create a combined image on the central screen.
Edge Blending technology allows for the perfect calibration of two projectors, so that an image is achieved with a better quality, higher luminosity and higher definition.
Content management was carried out using with the multi-image Watchout visualisation and presentation software and the Barco E2 control system.
Production, sound and language interpreting
Sono was also tasked with producing the live event using three HD cameras. Two were fixed and the other was made mobile by means of a camera dolly platform in order to give better coverage of movement in the room. For the sound engineering of the auditorium two line arrays of Kara (8+8) loudspeakers were used with a Kiva front fill speaker reinforcement system for the first rows of the audience, plus l'Acoustic 108 stage displays.
Event speakers used Shure ULX wireless microphones, of which ten were DPA headset microphones and four were hand-held.
The event required simultaneous language interpreting, for which Sono also provided the equipment and technical assistance necessary.
Synchronised lighting
Las características de la sala y la conOwing to the nature of the room and the configuration of the stage set it was necessary to create two different sets of lighting for the lectern and the seating area. Furthermore, side lighting and decorative side and back-wall lighting was also required.
One of the technical challenges of the event was to manage and synchronise the lighting of the back wall of the stage with the gradual appearance of the content on the central screen. More than 30 lighting projectors were synchronised by means of a Watchout system. For background lighting different colours were used together with the projected gobos.
Audiovisual systems and technology employed:
Video:
Barco HDM W20 FLEX projectors
Watchout content management
Barco E2 control system
Production:
Cameras Panasonic P2 HD
Grass Valley Racks
Sound:
L'Acoustic sound system: P.A. Kara, Frontfill Kiva, L'Acoustic 108 displays
Shure ULX microphones
Digico sound desk
Simultaneous language interpreting:
Bosch digital receivers for simultaneous interpreting
BARCELONA
C/ Progress,29
(Pol. Industrial Almeda)
08940 Cornellá de Llobregat
Barcelona
Tel. +34 934 801 000
E-mail sono@sono.es
MADRID
C/ Sepúlveda, 6 - Nave 26
(Pol. Industrial Alcobendas)
28108 Alcobendas (Madrid)
Tel. +34 916 624 217
E-mail sono@sono.es
SEVILLA
Cartuja Center CITE
C/ Leonardo da Vinci, 7
41092 Sevilla
Tel. +34 916 624 .217
+34 609 564 092
E-mail sono@sono.es
Subscribe to our

Newsletter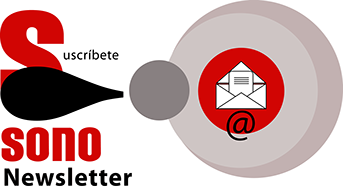 SONO TECNOLOGIA AUDIOVISUAL, S.L. As responsible for the treatment, your data will be processed in order to send you our newsletter with commercial news about our services. The legitimate basis is your consent which you can revoke at any time by notifying lopd@sono.es. No data will be transferred to third parties except legal obligation. You can access, rectify and delete your data, as well as exercise other rights by consulting the additional and detailed information on data protection in our Privacy Policy