Since 1972
Events
Loving Customer | marketingdirecto.com
Sono, sponsor and integral audiovisual provider of Enamorando al Consumidor, the forum on advertising and marketing organized by Marke – ting Directo
The Cinemas Cinesa Proyecciones hosted on November 20 a new edition of the forum on advertising and marketing hosted by Marketing Directo under the slogan 'Enamorando al Consumidor'. An opportunity to listen to the voices, in terms of trends and best practices, of some of the best known brands with national and international representation on the evolution of the sector in an event that brought together more than 300 people in Madrid.
SONO had the opportunity on this occasion to participate actively, not only providing audiovisual technology and equipment, as well as the specialist staff for the correct live achievement of the event, but also had representation in one of the round tables. Carlos Henao, Marketing Director of Sono, emphasized how emotions continue to play a crucial role when it comes to connecing with consumers in a shared debate algonside brands such as Samsung, Deliveroo, BlaBlaCar, Easyjet or Atrápalo.
Curved LED display, sorround and innov Audiovisual equipment, lightning and sound for the event
SONO provided BARCO E2 screen management systems with EC200 control table and monitoring for the distribution of screen contents.
For the sound, loudspeakers, headset and handheld wireless microphones were provided for the speakers and a 24-channel digital mixer was provided.
The lightning of the event was conceived for create atmosphere around the entrance and the hall and to dress the room, playing with textures and shapes pointing to the sides of the room and the stalls and which served as a spliter between presentations and auditorium interventions.
Again an unbeatable opportunity for audiovisual technical adaptability for an event held in a particular place, in terms of environment conditions, as in this case, in a cinema projection room.
BARCELONA
C/ Progress,29
(Pol. Industrial Almeda)
08940 Cornellá de Llobregat
Barcelona
Tel. +34 934 801 000
E-mail sono@sono.es
MADRID
C/ Sepúlveda, 6 - Nave 26
(Pol. Industrial Alcobendas)
28108 Alcobendas (Madrid)
Tel. +34 916 624 217
E-mail sono@sono.es
SEVILLA
Cartuja Center CITE
C/ Leonardo da Vinci, 7
41092 Sevilla
Tel. +34 916 624 .217
+34 609 564 092
E-mail sono@sono.es
Subscribe to our

Newsletter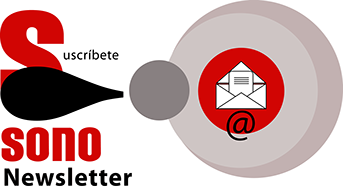 SONO TECNOLOGIA AUDIOVISUAL, S.L. As responsible for the treatment, your data will be processed in order to send you our newsletter with commercial news about our services. The legitimate basis is your consent which you can revoke at any time by notifying lopd@sono.es. No data will be transferred to third parties except legal obligation. You can access, rectify and delete your data, as well as exercise other rights by consulting the additional and detailed information on data protection in our Privacy Policy