Desde 1972
Fixed
Facilities
Dinopolis Theme Park, Teruel (2Nd Phase)
Museology deals with the origins of the human species and its evolutionary transformation over time: bipedalism, emergence of intelligence, learning and technology, reproductive strategies, anatomy i human language.
Services performed: Preshower of Attraction "Last minute" channeling visitors to the shipper.
Technology used:
In 10 different areas, incorporating museum resources and exhibition media: multimedia information graphics panels, games and interactive modules mechanical replicas of archaeological artifacts, display cases, video and interactive productions. All this, in the service of a museum visitor script that transmits information from the past 2 and a half million years in an educational and entertaining way, but with the highest scientific rigor.
BARCELONA
C/ Progress,29
(Pol. Industrial Almeda)
08940 Cornellá de Llobregat
Barcelona
Tel. +34 934 801 000
E-mail sono@sono.es
MADRID
C/ Sepúlveda, 6 - Nave 26
(Pol. Industrial Alcobendas)
28108 Alcobendas (Madrid)
Tel. +34 916 624 217
E-mail sono@sono.es
SEVILLA
Cartuja Center CITE
C/ Leonardo da Vinci, 7
41092 Sevilla
Tel. +34 916 624 .217
+34 609 564 092
E-mail sono@sono.es
Subscribe to our

Newsletter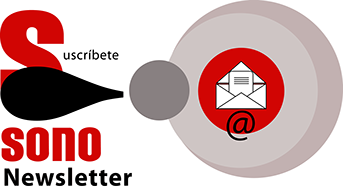 SONO TECNOLOGIA AUDIOVISUAL, S.L. As responsible for the treatment, your data will be processed in order to send you our newsletter with commercial news about our services. The legitimate basis is your consent which you can revoke at any time by notifying lopd@sono.es. No data will be transferred to third parties except legal obligation. You can access, rectify and delete your data, as well as exercise other rights by consulting the additional and detailed information on data protection in our Privacy Policy