Since 1972
Events
Sono is once again provider of audiovideo services and equipment for this year's Cornellà Creació Forum
As specialists in integrating audiovisual services for events, Sono were tasked for another year with providing the rental of audiovisual equipment for the rental of audiovisual equipment and facilitating the audiovisual design for the different events that were held in the Cornellà Creació Forum.
The aim of this event is to promote the business environment of the area and to encourage debate and reflection. The event continues with its format of themed one-day seminars with invited national and international speakers from the fields of politics, economics and social affairs. This year's edition kicked off with the presence of the French exminister Ségolène Royal, who in January opened the conference with a seminar on the three challenges of climate change. There are five more events planned in the agenda for upcoming months.
Audiovisual technology and precision production
On this ocassion Sono provided the creativity in the stage design, which incorporated a 16:9 projection screen measuring 5.18 x 3.05 metres. A 14,000 lumen Christie DLP projector was used, as well as a monitoring system and an ENG kit for giving internal coverage to the act. The hall was sound equipped by means of 12 NEXO loudspeakers, between the woofers and monitors. Headset and lapel microphones were provided for the participants and speakers, as was a rack for the press for broadcasting.
The stage set was finished off with a skyline of the most emblematic buildings in the city of Cornellà. It was built in wood and was a lit by a changing light setting that provided constrast with the background light in the room.
There will be more events on 16 March, and it will be the turn of journalist and writer Kepa Aulsesia to take part in the first 'face to face' of the season. This will feature Sakia Sassen, expert in globalisation and the well-known architect Luís Vidal. The event will take place in the Museu Agbar de les Aigües.
BARCELONA
C/ Progress,29
(Pol. Industrial Almeda)
08940 Cornellá de Llobregat
Barcelona
Tel. +34 934 801 000
E-mail sono@sono.es
MADRID
C/ Sepúlveda, 6 - Nave 26
(Pol. Industrial Alcobendas)
28108 Alcobendas (Madrid)
Tel. +34 916 624 217
E-mail sono@sono.es
SEVILLA
Cartuja Center CITE
C/ Leonardo da Vinci, 7
41092 Sevilla
Tel. +34 916 624 .217
+34 609 564 092
E-mail sono@sono.es
Subscribe to our

Newsletter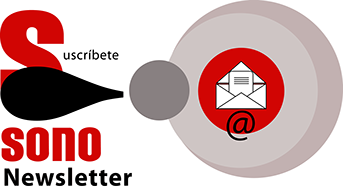 SONO TECNOLOGIA AUDIOVISUAL, S.L. As responsible for the treatment, your data will be processed in order to send you our newsletter with commercial news about our services. The legitimate basis is your consent which you can revoke at any time by notifying lopd@sono.es. No data will be transferred to third parties except legal obligation. You can access, rectify and delete your data, as well as exercise other rights by consulting the additional and detailed information on data protection in our Privacy Policy