Since 1972
Events
Technical production for the celebration of 25 years of Cisco Spain in Madrid
As specialists in integrating audiovisual services for events, Sono was tasked with the technical direction, the supply of audiovisual equipment, design of the stage set, supervision of the event and the coordination between the different actors collaborating with the communications agency Otra Cosa Global de Comunicación.
The event was held on May 11 in the Kinépolis cinema in Madrid and was attended by more than 2,000 people. It was an occasion for the technological giant to showcase its latest advances in digital transformation systems for companies in the Spanish market.
A 22 metre LED welcome curtain
Visitors were submerged into the world of Cisco thanks to 22 metres of Matrix lineal curtain display screen. It was managed with Arkaos software installed below the cinema screen, the idea being to create an effect of a background plagued with micro-particles and give dynamism to the event.
Under the slogan of 'the Digital Platform", this IT multinational emphasized its five main drivers: connectivity, security, automation, analytics and collaboration during this event. It was held in Sala 25, the biggest auditorium in Kinépolis Madrid, and there were complimentary events in the four adjoining rooms for partners.
For control of audio y video Sono utilized 14 headset microphones, Barco presentation systems, and a Midas Pro 1 mixing desk, amongst others. Filming was carried out with three Grace Valley (LDK 3000) cameras and it was produced in HD. At the other venues, the sound engineering and video projections were carried out with sound desks and video mixer.
Business digitalization will generate profits of €2.5tn for the European economy by 2025, and an increase of 20% for industry according to Cisco figures. In Spain, this business could be worth €350bn.
BARCELONA
C/ Progress,29
(Pol. Industrial Almeda)
08940 Cornellá de Llobregat
Barcelona
Tel. +34 934 801 000
E-mail sono@sono.es
MADRID
C/ Sepúlveda, 6 - Nave 26
(Pol. Industrial Alcobendas)
28108 Alcobendas (Madrid)
Tel. +34 916 624 217
E-mail sono@sono.es
SEVILLA
Cartuja Center CITE
C/ Leonardo da Vinci, 7
41092 Sevilla
Tel. +34 916 624 .217
+34 609 564 092
E-mail sono@sono.es
Subscribe to our

Newsletter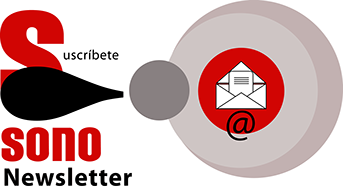 SONO TECNOLOGIA AUDIOVISUAL, S.L. As responsible for the treatment, your data will be processed in order to send you our newsletter with commercial news about our services. The legitimate basis is your consent which you can revoke at any time by notifying lopd@sono.es. No data will be transferred to third parties except legal obligation. You can access, rectify and delete your data, as well as exercise other rights by consulting the additional and detailed information on data protection in our Privacy Policy