Since 1972
Events
Charity Dinner 'Somos Uno'
30,000 lumen rear projection on 7x4m screen for Invest for Children charity dinner
Held on the pitch of the stadium of Real Club Deportivo Español, the event was attended by 1000 people. As on previous occasions, Sono provided A/V services for the 5th edition of the 'Somos Uno' charity dinner, whose aim is to raise funds for the labour integration programme of the Aura Foundation, research into Alzheimer prevention, and the new Children's Cancer Centre of Barcelona Hospital.
A 7.62×4.42m screen rear projected with a 30,000 lumen, 4K resolution Christie Boxer suspended 8m off the ground were used for visualizing content. Three cameras, a front fill LA Acoustics, and stage monitors were used to allow the attendees to follow the proceedings. Furthermore, two Meyer Sound arrays were employed for screen sound. Sono also provided stage lighting and audience lighting effects with Clay Paky Mythos spots.
Entertainment was provided by Santi Millán and Javi Sancho. In addition, the attendees got the chance to participate in a lucky dip with exclusive prizes, some of which were donated by the Aura Foundation.
BARCELONA
C/ Progress,29
(Pol. Industrial Almeda)
08940 Cornellá de Llobregat
Barcelona
Tel. +34 934 801 000
E-mail sono@sono.es
MADRID
C/ Sepúlveda, 6 - Nave 26
(Pol. Industrial Alcobendas)
28108 Alcobendas (Madrid)
Tel. +34 916 624 217
E-mail sono@sono.es
SEVILLA
Cartuja Center CITE
C/ Leonardo da Vinci, 7
41092 Sevilla
Tel. +34 916 624 .217
+34 609 564 092
E-mail sono@sono.es
Subscribe to our

Newsletter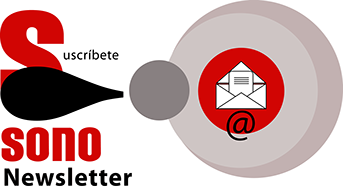 SONO TECNOLOGIA AUDIOVISUAL, S.L. As responsible for the treatment, your data will be processed in order to send you our newsletter with commercial news about our services. The legitimate basis is your consent which you can revoke at any time by notifying lopd@sono.es. No data will be transferred to third parties except legal obligation. You can access, rectify and delete your data, as well as exercise other rights by consulting the additional and detailed information on data protection in our Privacy Policy