Desde 1972
Fixed
Facilities
BCC is a new cultural space compo – sed of a range of multi-purpose faci – lities around the archaeological site of the Barcelona of 1700.
It is a public space which counts with 4 big rooms equipped for different uses.
VILLARROEL Room: dedicated to permanent exhibition, where the main findings of the excavations are displayed. CASANOVA Room: for temporal exhibitions. MORAGUES Room: multi-purpose space equipped technologically for different cultural activities. CASTELLVÍ Room: with the bar and the bookstore. Services:
SONO has carried out the supply, installation and programming of the audio- visual and lighting equipment of the museographical project.
Technology employed:
The centre is fitted out with the main technological advances offered by the most modern audio-visual equipment:
Centralized control system: this allows the switching on/off of all the audio- visual equipment, the museographical lighting and the curtains of the space. It gives also the possibility to operate individually each room and space, including the configuration of multiple working environments.
Large format projection and video display systems: Projection screens of more than 6 meters base, various dimensions videowalls, etc.
Multimedia guides in sync with the audio- visual equipment.
Simultaneous translations system.
Microphone and audio system with equipment for small concerts.
LED Lighting: lighting of the common spaces of the centre and the site, the orientation and lighting of archaeological pieces and diverse objects, the scenographic lighting of the multi-purpose room, the service lights of the room interiors and the lighting of the bar.
BARCELONA
C/ Progress,29
(Pol. Industrial Almeda)
08940 Cornellá de Llobregat
Barcelona
Tel. +34 934 801 000
E-mail sono@sono.es
MADRID
C/ Sepúlveda, 6 - Nave 26
(Pol. Industrial Alcobendas)
28108 Alcobendas (Madrid)
Tel. +34 916 624 217
E-mail sono@sono.es
SEVILLA
Cartuja Center CITE
C/ Leonardo da Vinci, 7
41092 Sevilla
Tel. +34 916 624 .217
+34 609 564 092
E-mail sono@sono.es
Subscribe to our

Newsletter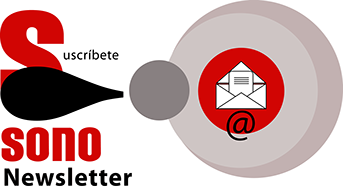 SONO TECNOLOGIA AUDIOVISUAL, S.L. As responsible for the treatment, your data will be processed in order to send you our newsletter with commercial news about our services. The legitimate basis is your consent which you can revoke at any time by notifying lopd@sono.es. No data will be transferred to third parties except legal obligation. You can access, rectify and delete your data, as well as exercise other rights by consulting the additional and detailed information on data protection in our Privacy Policy