Since 1972
Events
Barcelona – New Nissan Navara
Zona Franca plan celebrates the start of the manufacturing in Barcelona of the new pickup, with the presence of Nissan Europe chairman Paul Will-cox.
Nissan has announced in front of almost 5.000 workers and the press, the election of the plant to produce the new model Nissan Navara NP300. The leitmotiv of the event has been Japanese ceremony Daruma, which serves as motivation in Japanese tradition to reach big goals.
The event has taken place at the second line of the plant, a massive space that needed to be supplied with video and audio equipment for a good communication. As AV partner in Spain for Nissan, Sono has provided the technical equipment for the event: set-up, technical assistance and audiovisual equipment rental.
Regarding video, Sono implemented a projection system including:
On the stage, a 14.000 lumens projector Christie Roadster HD14K-M over screen of 4×2,25 meters.
To cover the whole visual area of the attendees, there were along the line 4 projectors of 8.000 lumens Barco RLM W8 over screens of 3,50 x 1,91 meters.
At the end of the line we install 4 LCD displays of 80-inches for the journalists. Video, data and retransmission signals have been managed to all the screens with Barco Folsom system.
With respect to sound and other elements:
To guarantee an appropriate sound coverage, Sono has designed a sound system with Meyer Melodie array, wireless lectern and handheld microphones. Everything controlled with a mixer Yamaha LS9.
Sono also provided lighting equipment, the stage and truss structures for the video and audio equipment.
Sono was also in charge of the live stage management of the event, which had large press coverage. Nissan investment of 80 million euros will create a thousand of new jobs in the city.
BARCELONA
C/ Progress,29
(Pol. Industrial Almeda)
08940 Cornellá de Llobregat
Barcelona
Tel. +34 934 801 000
E-mail sono@sono.es
MADRID
C/ Sepúlveda, 6 - Nave 26
(Pol. Industrial Alcobendas)
28108 Alcobendas (Madrid)
Tel. +34 916 624 217
E-mail sono@sono.es
SEVILLA
Cartuja Center CITE
C/ Leonardo da Vinci, 7
41092 Sevilla
Tel. +34 916 624 .217
+34 609 564 092
E-mail sono@sono.es
Subscribe to our

Newsletter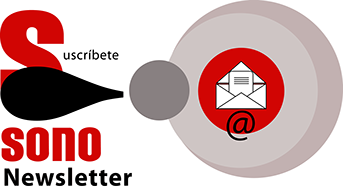 SONO TECNOLOGIA AUDIOVISUAL, S.L. As responsible for the treatment, your data will be processed in order to send you our newsletter with commercial news about our services. The legitimate basis is your consent which you can revoke at any time by notifying lopd@sono.es. No data will be transferred to third parties except legal obligation. You can access, rectify and delete your data, as well as exercise other rights by consulting the additional and detailed information on data protection in our Privacy Policy