Since 1972
Events
Banc Sabadell Shareholders Meeting 2017
A display of more than ten metres across and image streaming for sign language
Banc Sabadell has yet again trusted the technical quality and reliability of Sono as provider and integrator of audiovisual services for its General Shareholder Meeting. With more than 1,000 attendees amongst shareholders and representatives, it is one of the biggest corporate events for the enterprise, and is also very significant in terms of the audiovisual infrastructure employed.
Sono was tasked with all the rental of audiovisual equipment for the event. Some notable items were a large format Absen A3 display with a pixel pitch of 3.9mm , measuring more than ten metres across, eight 80" secondary displays for the audience, and twenty-one 15" displays for the presidency of the Board. A sound system was used with a Meyer M'elodie line array and a teleprompter.
Maximum adaptability in content and accessibility
On this occasion highly personalised Keynote presentations were used in order to give the utmost flexibility and control to the speakers. As a result a high quality was achieved in graphic design, and in the distribution and display of graphics and image. Sono also took care of flash content.
The language interpreting system,, with two cabins and 150 receivers, meant that the event could be followed in both Spanish and English. The event was recorded with three cameras, and the entire streaming of the event event was carried out in three languages (Spanish, Catalan and English). The event was also transmitted in sign language.
Sono also took care of technical assistance, and the installations and control of the adjoining rooms for the press and for VIP guests.
BARCELONA
C/ Progress,29
(Pol. Industrial Almeda)
08940 Cornellá de Llobregat
Barcelona
Tel. +34 934 801 000
E-mail sono@sono.es
MADRID
C/ Sepúlveda, 6 - Nave 26
(Pol. Industrial Alcobendas)
28108 Alcobendas (Madrid)
Tel. +34 916 624 217
E-mail sono@sono.es
SEVILLA
Cartuja Center CITE
C/ Leonardo da Vinci, 7
41092 Sevilla
Tel. +34 916 624 .217
+34 609 564 092
E-mail sono@sono.es
Subscribe to our

Newsletter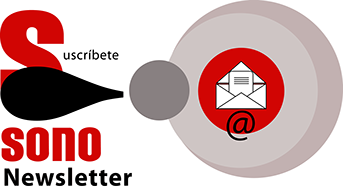 SONO TECNOLOGIA AUDIOVISUAL, S.L. As responsible for the treatment, your data will be processed in order to send you our newsletter with commercial news about our services. The legitimate basis is your consent which you can revoke at any time by notifying lopd@sono.es. No data will be transferred to third parties except legal obligation. You can access, rectify and delete your data, as well as exercise other rights by consulting the additional and detailed information on data protection in our Privacy Policy