Since 1972
Events
Audiovisual Equipment And Streaming For Vodafone 5G Event
Sono, audiovisual provider for the Vodafone and Huawei 5G mobile technology event presentation
In February Vodafone and Huawei completed the first ever call with the latest generation in world mobile telephony. The event took place simultanously in the Vodaphone innovation centre in Castelldefels and their headquarters in Madrid. They successfully made the first videocall with 5G technology, which reached speeds that multiplied current capabilities by eight.
Sono, as specialists in the integrating audiovisual services, were tasked with supplying the audiovisual rentals and with providing technical assistance to the event in collaboration with Adisar Media.
Rental of audiovisual equipment and streaming
The launch was carried out in two phases. In the first, there was a first demonstration with a dual 4G to 5G connection as the real test. From Castelldefels the signals from the server was captured, it was collected and streamed minutes later to the headquarters in Madrid.
In the second phase a 5G phone calll was made. It was done via a computer connected to a network. The call was received by a smartphone, from which a video and audio signal was extracted to be screened in the LED display in the room.
The sound engineering for the event in Castelldefels was entirely carried out by Sono Audiovisual Technology. In the centre of Madrid the existing audiovisual equipment was managed and microphones systems were added to ensuer the event went smootly.
Technical audiovisual coverage was also provided to the two press conferences that were carried out in parallel in Madrid and Barcelona.
Audiovisual equipment
Castelldefels:
Two 80 inches monitors
Barco Encore ME video management system
Panasonic P2 FHD camera
Folsom control desk
Sound equipment: 6 Nexo PS8
Conventional lightning
Madrid:
LED screen from the auditorium
Professional monitors
Roland V800 HD mixer
Sound equipment: from the auditorium
Four DPA microphone system
BARCELONA
C/ Progress,29
(Pol. Industrial Almeda)
08940 Cornellá de Llobregat
Barcelona
Tel. +34 934 801 000
E-mail sono@sono.es
MADRID
C/ Sepúlveda, 6 - Nave 26
(Pol. Industrial Alcobendas)
28108 Alcobendas (Madrid)
Tel. +34 916 624 217
E-mail sono@sono.es
SEVILLA
Cartuja Center CITE
C/ Leonardo da Vinci, 7
41092 Sevilla
Tel. +34 916 624 .217
+34 609 564 092
E-mail sono@sono.es
Subscribe to our

Newsletter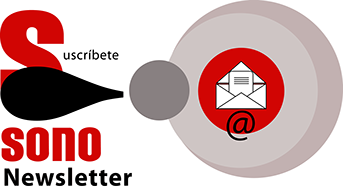 SONO TECNOLOGIA AUDIOVISUAL, S.L. As responsible for the treatment, your data will be processed in order to send you our newsletter with commercial news about our services. The legitimate basis is your consent which you can revoke at any time by notifying lopd@sono.es. No data will be transferred to third parties except legal obligation. You can access, rectify and delete your data, as well as exercise other rights by consulting the additional and detailed information on data protection in our Privacy Policy