Desde 1972
Fixed
Facilities
Audio Visual Installation Museum Domus Avinyó
Audio visual integration project in the cultural sector within the Barcino Plan, which aims at recovering the Roman heritage in the city of Barcelona.
An archaeological excavation in 2004 uncovered remains of a Roman Domus, dating from century I. These include mural paintings of high technical quality that are first seen in the city and have been restored. Within the Barcino Plan, the muselization project is carried out in order to approach these discoveries to the citizens.
Sono was commissioned by the Cultural Institut of Barcelona (ICUB) to realize and implement the audio visual engineering project in this new museographic space
We can divide this space in 3 zones:
Zone 1 – Introduction
The beginning of the tour introduces the visitor into the roman era through sounds that are activated by presence sensors.
Zone 2 – Immersion
This is the exhibition zone itself. The integration of a control system allows the visit guide to manage from an iPad all the AV equipment and the languages selection.
We can change to one part of the visit to another by the synchronization of different elements such the video players and the lighting.
The audio visual technology employed includes a large format widescreen projection (5 x 2,5 m), 10-inch screens and 2 46-inch multi-touch displays for the visitors to delve deeper interactively into the content of the exhibition.
Zone 3 – Epilogue
At the end of the visit we found another AV projection on the wall, with additional information about the historical context of Domus Avinyó.
This exhibition can be visited for free until 26th April. More information for visits: http://museuhistoria.bcn.cat/en/ node/1057
BARCELONA
C/ Progress,29
(Pol. Industrial Almeda)
08940 Cornellá de Llobregat
Barcelona
Tel. +34 934 801 000
E-mail sono@sono.es
MADRID
C/ Sepúlveda, 6 - Nave 26
(Pol. Industrial Alcobendas)
28108 Alcobendas (Madrid)
Tel. +34 916 624 217
E-mail sono@sono.es
SEVILLA
Cartuja Center CITE
C/ Leonardo da Vinci, 7
41092 Sevilla
Tel. +34 916 624 .217
+34 609 564 092
E-mail sono@sono.es
Subscribe to our

Newsletter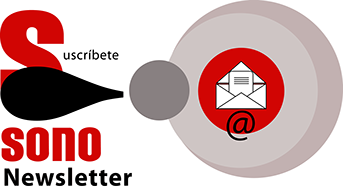 SONO TECNOLOGIA AUDIOVISUAL, S.L. As responsible for the treatment, your data will be processed in order to send you our newsletter with commercial news about our services. The legitimate basis is your consent which you can revoke at any time by notifying lopd@sono.es. No data will be transferred to third parties except legal obligation. You can access, rectify and delete your data, as well as exercise other rights by consulting the additional and detailed information on data protection in our Privacy Policy