Desde 1972
Audiovisual
Contents
Within the annual act of delivery of vehicles by Audi to the first FCB staff, Sono provided the audiovisual technical means for the realization of a video-mapping on a Slot circuit and was in charge of the management of the event.
The application, developed by 20 Hungarians, consisted of an 8-lane slot in which the Audi R18s were controlled by sensors that measured the concentration level of the participants. These vehicles were detected by presence sensors and followed throughout the circuit by the projection of video-mapping.
The players of the first team of the FCB competed among themselves. The 4 finalists of the first squad went on to the "grand final" against the 4 finalists selected in the Kids Race, played between FCB member children.
The event culminated in the award ceremony for the winners and the subsequent delivery of Audi vehicles to the first team of the FCB. Josep Lluis Merlos was the master of ceremonies and in charge of broadcasting all the races.
Services performed:
Sono collaborated by providing the necessary technology for the implementation of the application and development of the event and press conference, as well as the management of the entire act.
Technology used:
BARCO DLP projectors
Folsom system
Watchout
Realization of cameras
illumination
Sound system
BARCELONA
C/ Progress,29
(Pol. Industrial Almeda)
08940 Cornellá de Llobregat
Barcelona
Tel. +34 934 801 000
E-mail sono@sono.es
MADRID
C/ Sepúlveda, 6 - Nave 26
(Pol. Industrial Alcobendas)
28108 Alcobendas (Madrid)
Tel. +34 916 624 217
E-mail sono@sono.es
SEVILLA
Cartuja Center CITE
C/ Leonardo da Vinci, 7
41092 Sevilla
Tel. +34 916 624 .217
+34 609 564 092
E-mail sono@sono.es
Subscribe to our

Newsletter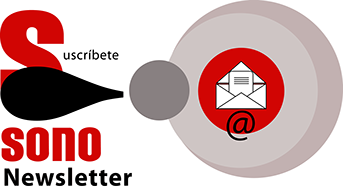 SONO TECNOLOGIA AUDIOVISUAL, S.L. As responsible for the treatment, your data will be processed in order to send you our newsletter with commercial news about our services. The legitimate basis is your consent which you can revoke at any time by notifying lopd@sono.es. No data will be transferred to third parties except legal obligation. You can access, rectify and delete your data, as well as exercise other rights by consulting the additional and detailed information on data protection in our Privacy Policy