Since 1972
Events
100Th Anniversary Gala Dinner for Titanlux
LED video sphere were synchronised with large display screen for the gala dinner of the 100th Titanlux anniversary
This renowned brand was celebrating 100 years of history, and wished to create a unique atmosphere for such a special day. Sono, through the Soulmate Barcelona agency, was tasked with the technical consultancy to provide coverage to the audiovisual requirements of the event.
LED video ball and display screen with a 4,8mm pixel pitch
A 4.8mm pixel pitch LED screen measuring 55 square metres was intalled on the stage, and an Encore control system was used for managing content. There was also a 1.2 diameter spherical structure hanging from the ceiling. Signal to both the screen and this LED video ball was synchronized, giving continuity to the narrative of the event. There were also 10 robot projectors and 26 RGB projectors with battery.
One of the more complicated aspects of the installation was the sound engineering. Due to the nature of the space, a rigging structure and an array of audio was required. A sound amplification system was used, as well as intercoms and microphones for the people giving speeches.
Sono undertook the programming of the lightning effects for the stage, and dining area. The company als did the architectural design of the hall.
The event was held in the Sala Oval of the Museu Nacional d'Art de Catalunya (MNAC), and brought together around 700 people.
BARCELONA
C/ Progress,29
(Pol. Industrial Almeda)
08940 Cornellá de Llobregat
Barcelona
Tel. +34 934 801 000
E-mail sono@sono.es
MADRID
C/ Sepúlveda, 6 - Nave 26
(Pol. Industrial Alcobendas)
28108 Alcobendas (Madrid)
Tel. +34 916 624 217
E-mail sono@sono.es
SEVILLA
Cartuja Center CITE
C/ Leonardo da Vinci, 7
41092 Sevilla
Tel. +34 916 624 .217
+34 609 564 092
E-mail sono@sono.es
Subscribe to our

Newsletter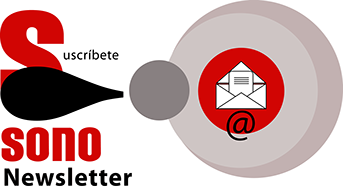 SONO TECNOLOGIA AUDIOVISUAL, S.L. As responsible for the treatment, your data will be processed in order to send you our newsletter with commercial news about our services. The legitimate basis is your consent which you can revoke at any time by notifying lopd@sono.es. No data will be transferred to third parties except legal obligation. You can access, rectify and delete your data, as well as exercise other rights by consulting the additional and detailed information on data protection in our Privacy Policy