Desde 1972
Fixed
Facilities
Videoconferencing for RCDE
Sono fits out the boardroom of RCD Espanyol with a system of videoconference by IP and projection.
The RCD Espanyol has renewed its boar – droom with a last generation videoconferencing system.
For this AV fix installation, the football club entrusted Sono as audiovisual provider for the supply and integration of AV equipment in the meeting room.
It was necessary to respect the current layout of the 78-sqm room, which has a big central table and a large window with views to the field at one side. To avoid to the maximum the possible reflections, projection has been used, instead of ano – ther kind of screen.
Technology employed Technology employed for this project:
System of videoconferencing by IP Polycom Real Presence 700
Projector NEC of 4.000 lumens and 1080p HD resolution with ceiling support
Electric projection screen of 2,40 x 1,54 m with remote control
Wireless surface microphones Shure Rack for the equipment HDMI extensors and cabling
The equipment of videoconferencing Polycom Real Presence offers high definition video and shared content with up to 1080p to 60fps.By being a system based on standards, it is a flexible solution to connect with other organizations' system. Also the multipoint license allows to carry out up to 8 simultaneous connections.
BARCELONA
C/ Progress,29
(Pol. Industrial Almeda)
08940 Cornellá de Llobregat
Barcelona
Tel. +34 934 801 000
E-mail sono@sono.es
MADRID
C/ Sepúlveda, 6 - Nave 26
(Pol. Industrial Alcobendas)
28108 Alcobendas (Madrid)
Tel. +34 916 624 217
E-mail sono@sono.es
SEVILLA
Cartuja Center CITE
C/ Leonardo da Vinci, 7
41092 Sevilla
Tel. +34 916 624 .217
+34 609 564 092
E-mail sono@sono.es
Subscribe to our

Newsletter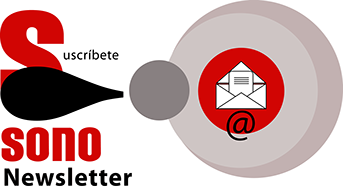 SONO TECNOLOGIA AUDIOVISUAL, S.L. As responsible for the treatment, your data will be processed in order to send you our newsletter with commercial news about our services. The legitimate basis is your consent which you can revoke at any time by notifying lopd@sono.es. No data will be transferred to third parties except legal obligation. You can access, rectify and delete your data, as well as exercise other rights by consulting the additional and detailed information on data protection in our Privacy Policy