Since 1972
Scenography
TV
"Tu Cara Me Suena 4" (Gestmusic)
With a new AV scenography for the TV set, the show becomes ratings leader in prime time.
Last 18th of september Gestmusic and Antena 3 premiered the new season of Tu cara me suena. The 4th edition comes with new contestants, changes in the show format and a renewd TV set.
For this new scenography, Gestmusic has relied on Sono as AV technology provider for TV shows. Sono offers:
technical consulting for video solutions
LED walls rental
set up and technical assistance for the recordings of the show
The TV set is made up by many displays of different sizes and features perfectly integrated:
The background is formed by 9 vertical totems with LED screen Barco I6 XP of 6mm pixel pitch: 7 units of 0,90 x 3,58 meters integrated in scenography and other 2 units of 0,90 x 4,93 meters hanged.
The access door for contestants is framed by 6 archs formed by 120 modules of flexible LED Curl screen of 10mm resolution.
The stairs are composed of 748 mini modules of LED Olite 510, also of 10mm, distributed in the steps. 2 big LED screens Absen A3 Pro, a high resolution display of only 3,9mm pixel pitch.
The table for the jury integrates a videowall formed by 3 LCD displays of 46-inch with separation between bezels of just 3,5 mm.
The second program of this edition has surprised the audience with the performace "2 in 1", which has caused a big sensation also in Twitter. It consisted of a spectacular virtual projection with effect of hologram , allowing the contestant Ruth Lorenzo to split into Freddie Mercury and Montserrat Caballé to sing "Barcelona", hymn of 1992 Olympics.
BARCELONA
C/ Progress,29
(Pol. Industrial Almeda)
08940 Cornellá de Llobregat
Barcelona
Tel. +34 934 801 000
E-mail sono@sono.es
MADRID
C/ Sepúlveda, 6 - Nave 26
(Pol. Industrial Alcobendas)
28108 Alcobendas (Madrid)
Tel. +34 916 624 217
E-mail sono@sono.es
SEVILLA
Cartuja Center CITE
C/ Leonardo da Vinci, 7
41092 Sevilla
Tel. +34 916 624 .217
+34 609 564 092
E-mail sono@sono.es
Subscribe to our

Newsletter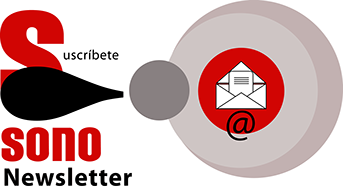 SONO TECNOLOGIA AUDIOVISUAL, S.L. As responsible for the treatment, your data will be processed in order to send you our newsletter with commercial news about our services. The legitimate basis is your consent which you can revoke at any time by notifying lopd@sono.es. No data will be transferred to third parties except legal obligation. You can access, rectify and delete your data, as well as exercise other rights by consulting the additional and detailed information on data protection in our Privacy Policy