Desde 1972
Fixed
Facilities
The Tito Bustillo Cave Art Centre
The Tito Bustillo Cave Art Centre
The cave of Tito Bustillo contains one of the best examples of Palaeolithic cave art in Asturias. The fact that visiting several of these cave art sites can be difficult, and that this exceptional cultural heritage needs to be preserved, led to the opening of the centre. The visitor can discover when the cave was discovered, how it was created, who inhabited it and how these works of cave art are being conserved, all by means of a multimedia display using the latest resources and techniques for museum exhibitions.
Services:
Design and installation the audio-visual equipment, as well as produce the con – tent and the interactive and multimedia applications.
Technology:
WatchOut projection,
interactive systems based on augmented reality architecture,
interactive systems using transparent touchscreen foil and directional audio systems,
Moving images were also projected onto rocks and model scenery to create the effect of animations.All this is controlled by means of a Medialon control system, which allows the centre to be fully automated and the current state of the installation to be monitored at all times.
BARCELONA
C/ Progress,29
(Pol. Industrial Almeda)
08940 Cornellá de Llobregat
Barcelona
Tel. +34 934 801 000
E-mail sono@sono.es
MADRID
C/ Sepúlveda, 6 - Nave 26
(Pol. Industrial Alcobendas)
28108 Alcobendas (Madrid)
Tel. +34 916 624 217
E-mail sono@sono.es
SEVILLA
Cartuja Center CITE
C/ Leonardo da Vinci, 7
41092 Sevilla
Tel. +34 916 624 .217
+34 609 564 092
E-mail sono@sono.es
Subscribe to our

Newsletter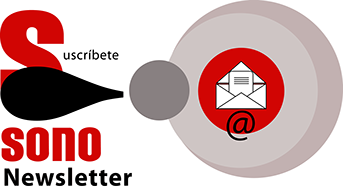 SONO TECNOLOGIA AUDIOVISUAL, S.L. As responsible for the treatment, your data will be processed in order to send you our newsletter with commercial news about our services. The legitimate basis is your consent which you can revoke at any time by notifying lopd@sono.es. No data will be transferred to third parties except legal obligation. You can access, rectify and delete your data, as well as exercise other rights by consulting the additional and detailed information on data protection in our Privacy Policy