Desde 1972
Audiovisual
Contents
The Sagrada Familia ́Special Celebrations ́
Workers, collaborators and volunteers of the Càritas charity in Catalonia came together for a meeting in Barcelona on Saturday 20th October under the slogan of "Càritas volunteers, bearers of hope".
Close to 4,000 people took part in this celebration, which started in the Fórum and finished in the church of the Sagrada Familia. The cardinal of Tegucigalpa (Honduras), Óscar Andrés Rodríguez Maradiaga, gave the key reading at the gathering. In the afternoon the Eucharist was given by Cardinal Maradiaga in the Sagrada Familia, together with Jaume Pujol, Archbishop of Tarragona; Sebastià Taltavull, Vice-Bishop of Barcelona; Joan Enric Vives, Archbishop, and Bishop of Urgell; Francesc Pardo, Bishop of Girona; Xavier Novell, Bishop of Solsona, and several priests involved in the work of Cáritas.
Provided services:
Sono collaborated as AV provider in the Eucharist held in the church of the Sagra – da Familia by supplying and installing the audiovisual services, including lighting, audio and video for the media, filming and broadcasting, streaming, recording and sound mixing of the choir. SONO also provided technical assistance throughout the event.
Some of the more notable technology employed is:
Ten 60" SHARP LCD screens with corresponding supports
Ten 40" SAMSUNG LCD screens with their corresponding UNICOL supports
SENNHEISER AND BEYER DYNAMIC microphones
Two YAMAHA mixers
Media rack with 30 outputs
MEYER SOUND stage monitors
Distribution for CAT5 with VGA
EXTRON signal EXTRON fibre optic cable for the transmission of the media signal
Recording and producing of the event in HD
Saving to KIPRO AJA hard disc and to DVD
BARCELONA
C/ Progress,29
(Pol. Industrial Almeda)
08940 Cornellá de Llobregat
Barcelona
Tel. +34 934 801 000
E-mail sono@sono.es
MADRID
C/ Sepúlveda, 6 - Nave 26
(Pol. Industrial Alcobendas)
28108 Alcobendas (Madrid)
Tel. +34 916 624 217
E-mail sono@sono.es
SEVILLA
Cartuja Center CITE
C/ Leonardo da Vinci, 7
41092 Sevilla
Tel. +34 916 624 .217
+34 609 564 092
E-mail sono@sono.es
Subscribe to our

Newsletter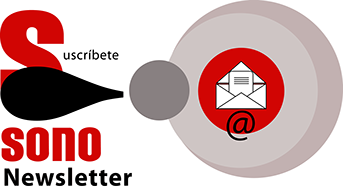 SONO TECNOLOGIA AUDIOVISUAL, S.L. As responsible for the treatment, your data will be processed in order to send you our newsletter with commercial news about our services. The legitimate basis is your consent which you can revoke at any time by notifying lopd@sono.es. No data will be transferred to third parties except legal obligation. You can access, rectify and delete your data, as well as exercise other rights by consulting the additional and detailed information on data protection in our Privacy Policy