Since 1972
Events
Seat Aftersales Conference
SEAT has entrusted SONO one more year the carrying out of the "AfterSales Conference". In the meeting the AfterSales department of SEAT made known to the 94 participants of 39 exporter countries the results of the last year and the strategic projection 2014.
The 2013 edition has been hold in the Pullman Skipper Hotel in Barcelona. All rooms were reserved for the event. Market place, vehicle exhibition zone, workshops and the own conference were the main activities in the 2-days event which conclude with a gala dinner in the restaurant Bestial.
Services:
Rental, installation and technical assistance of projection, audio and lighting equipment for the different places. Also the graphic design and rental of iPads for the displaying of SEAT Configurator in 5 languages.
Technology employed:
Conference Room
Projection with two 3-meters screens with 12.000 lumens HD Christie projectors
Image Management System Folsom with 3 encores
Video playing with Qlab system
Professional computers for power point
Spectacular lighting of the room by LEDs system with Aura and M-bar and 12-meter black truss
Sound system NEXO with loudspeakers at the ceiling
Wireless encrypted microphone system Shure
60" displays as support for attendees and 40" ones for speakers.
Countdown for speakers
Market place:
6 LED 50''-monitors USB and VGA reproduction
32" touch screen with integrated computer
Stands lighting
Vehicle exhibition zone:
4 iPads with SEAT Configurator
Trussing and lighting with AURA system
Ambient audio and announcement system
Workshops
Projection screens and video projectors
BARCELONA
C/ Progress,29
(Pol. Industrial Almeda)
08940 Cornellá de Llobregat
Barcelona
Tel. +34 934 801 000
E-mail sono@sono.es
MADRID
C/ Sepúlveda, 6 – Nave 26
(Pol. Industrial Alcobendas)
28108 Alcobendas (Madrid)
Tel. +34 916 624 217
E-mail sono@sono.es
SEVILLA
Cartuja Center CITE
C/ Leonardo da Vinci, 7
41092 Sevilla
Tel. +34 916 624 .217
+34 609 564 092
E-mail sono@sono.es
Subscribe to our

Newsletter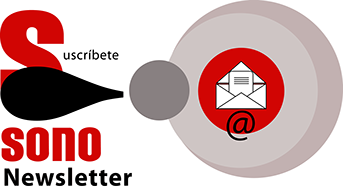 SONO TECNOLOGIA AUDIOVISUAL, S.L. As responsible for the treatment, your data will be processed in order to send you our newsletter with commercial news about our services. The legitimate basis is your consent which you can revoke at any time by notifying lopd@sono.es. No data will be transferred to third parties except legal obligation. You can access, rectify and delete your data, as well as exercise other rights by consulting the additional and detailed information on data protection in our Privacy Policy