Since 1972
Events
Roca entrusts Sono as audiovisual supplier for the New Products 2017 event in Barcelona
Hotel Juan Carlos I was the spacechosen by Roca to hold its annual New Products 2017 event with its traditional dealer network in Spain.
Sono provided rental of audiovisual equipment, set up and assistance during the event, and was responsible for the technical production.
In order to ensure that the almost 400 attendees, could follow the event, Sono built a large stage presided over by a giant high-resolution LED screen. It was a a 10 x 3,5 metre, 3,9mm LED wall Absen A3 Pro. The content of this 35 square metre screen was distributed using a Barco E2 video signal management system.
Speakers had a 40" screens available to them, and floor stands for their presentations.
Sono also installed a latest-generation l'Acoustics sound system and wireless microphone system in the room, with four headset microphones and two hand held mics. The audio system was controlled from a 32 channel LS9 Yamaha digital mixer.
Other services provided by Sono:
Stage and background lightingRecording of the event
BARCELONA
C/ Progress,29
(Pol. Industrial Almeda)
08940 Cornellá de Llobregat
Barcelona
Tel. +34 934 801 000
E-mail sono@sono.es
MADRID
C/ Sepúlveda, 6 – Nave 26
(Pol. Industrial Alcobendas)
28108 Alcobendas (Madrid)
Tel. +34 916 624 217
E-mail sono@sono.es
SEVILLA
Cartuja Center CITE
C/ Leonardo da Vinci, 7
41092 Sevilla
Tel. +34 916 624 .217
+34 609 564 092
E-mail sono@sono.es
Subscribe to our

Newsletter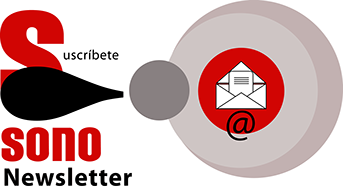 SONO TECNOLOGIA AUDIOVISUAL, S.L. As responsible for the treatment, your data will be processed in order to send you our newsletter with commercial news about our services. The legitimate basis is your consent which you can revoke at any time by notifying lopd@sono.es. No data will be transferred to third parties except legal obligation. You can access, rectify and delete your data, as well as exercise other rights by consulting the additional and detailed information on data protection in our Privacy Policy