Desde 1972
Fixed
Facilities
Sono is responsible of the audiovisual equipment in Roca Lisboa Gallery, a new Roca space in a land- mark building of Lisboa.
Services: 
SONO has collaborated actively in the design and integrated audio-visual project for the four floors of the building.
Technology:
– More than 30 monitors in horizontal format spread over the four floors with WatchOut video and audio management.
– A sound system on all floors.
– A 3 x 2m videowall in the window with 46" Ultra Slim monitors onto which Rituals (a film showing bathroom routines) is screened.
– 4 interactive tables with dual 40" moni- tor and touchscreen laminate.
– Video projection in the Sustainability Room with integrated audio system.
– A monitor system showing information on each floor.
– Touchscreens with product information.
– An exhibition room with 45" plasma screens and an integrated media server and audio for the different exhibitions.
– The installation includes an audiovisual system controlled by Crestron control system with remote management for all equipment.
BARCELONA
C/ Progress,29
(Pol. Industrial Almeda)
08940 Cornellá de Llobregat
Barcelona
Tel. +34 934 801 000
E-mail sono@sono.es
MADRID
C/ Sepúlveda, 6 – Nave 26
(Pol. Industrial Alcobendas)
28108 Alcobendas (Madrid)
Tel. +34 916 624 217
E-mail sono@sono.es
SEVILLA
Cartuja Center CITE
C/ Leonardo da Vinci, 7
41092 Sevilla
Tel. +34 916 624 .217
+34 609 564 092
E-mail sono@sono.es
Subscribe to our

Newsletter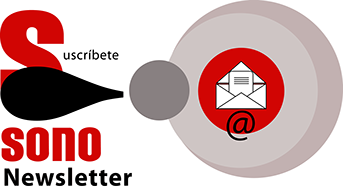 SONO TECNOLOGIA AUDIOVISUAL, S.L. As responsible for the treatment, your data will be processed in order to send you our newsletter with commercial news about our services. The legitimate basis is your consent which you can revoke at any time by notifying lopd@sono.es. No data will be transferred to third parties except legal obligation. You can access, rectify and delete your data, as well as exercise other rights by consulting the additional and detailed information on data protection in our Privacy Policy