Since 1972
Events
Sono is once again the audiovisual provider for the RCD Espanyol shareholder meeting
The shareholder meeting was held in the Auditorium of Cornellà de Llobregat, in Barcelona. Sono provided the rental of audiovisual equipment, set up, live direction, and management of the event, both in the auditorium and in the press room.
Auditorium
Sono installed a multi-projectioncon 2 Barco HD de 12.000 lúmenes, gestionados mediante un sistema Folsom for managing content, including PowerPoint presentations, video and event retransmission.
The president's table, occupied by the president Chen Yansheng and the managing directors was equipped with a Bosch Concentrus conference system, which allowed the board members to receive translated content (Chinese-Spanish and Spanish-Chinese). This translated language was also provided to attendees in the hall. There were also various supplementary screens available to make it easier for board members to follow the meeting.
Sono was also responsible for live direction of the event, using an HD rack and two cameras.
Press room
In the press room journalists were able to follow the event live, thanks to the infrastructure and cabling installed by Sono for retransmission of signals, audio and interpreted language.
BARCELONA
C/ Progress,29
(Pol. Industrial Almeda)
08940 Cornellá de Llobregat
Barcelona
Tel. +34 934 801 000
E-mail sono@sono.es
MADRID
C/ Sepúlveda, 6 - Nave 26
(Pol. Industrial Alcobendas)
28108 Alcobendas (Madrid)
Tel. +34 916 624 217
E-mail sono@sono.es
SEVILLA
Cartuja Center CITE
C/ Leonardo da Vinci, 7
41092 Sevilla
Tel. +34 916 624 .217
+34 609 564 092
E-mail sono@sono.es
Subscribe to our

Newsletter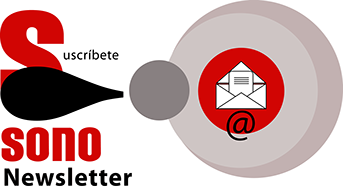 SONO TECNOLOGIA AUDIOVISUAL, S.L. As responsible for the treatment, your data will be processed in order to send you our newsletter with commercial news about our services. The legitimate basis is your consent which you can revoke at any time by notifying lopd@sono.es. No data will be transferred to third parties except legal obligation. You can access, rectify and delete your data, as well as exercise other rights by consulting the additional and detailed information on data protection in our Privacy Policy