Desde 1972
Audiovisual
Contents
Product Presentation: Yantil by Esteve
SONO, audiovisual partner of ESTEVE in the launch of Yantil, its new analgesic.
With an spectacular setup at Atrio 3 of Hotel Barceló Renacimiento in Sevilla and an innovative product brochure presentation, the event was based on the Cirque du Soleil under the slogan "Alegría". During 3 days, different acts were held, targeted to the sales national network: conferences, medical forum meetings, Yantil brochure presentatiom, training sessions….
Services:
Technical, rental and installation of audio- visual equipment, technical production, stage management and content creation.
Employed technology:
Multi-projection HD (3 projectors of 18.000 lúmenes) over curve screen of 16×5 meters
Signal management system Barco Folsom with 4 encores
Watchout system for geometrcial correction of the background screen
Retransmission and recording of the event with 2 HD cameras rack. sound system and wireless microphons
Spectacular and stage lighting
Creation of 2 3D videos for the dynamic brochure presentation using chroma to acquire a real person into the 3D studio.
BARCELONA
C/ Progress,29
(Pol. Industrial Almeda)
08940 Cornellá de Llobregat
Barcelona
Tel. +34 934 801 000
E-mail sono@sono.es
MADRID
C/ Sepúlveda, 6 - Nave 26
(Pol. Industrial Alcobendas)
28108 Alcobendas (Madrid)
Tel. +34 916 624 217
E-mail sono@sono.es
SEVILLA
Cartuja Center CITE
C/ Leonardo da Vinci, 7
41092 Sevilla
Tel. +34 916 624 .217
+34 609 564 092
E-mail sono@sono.es
Subscribe to our

Newsletter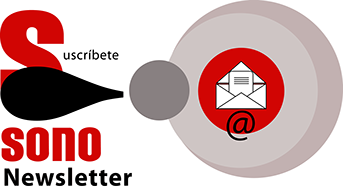 SONO TECNOLOGIA AUDIOVISUAL, S.L. As responsible for the treatment, your data will be processed in order to send you our newsletter with commercial news about our services. The legitimate basis is your consent which you can revoke at any time by notifying lopd@sono.es. No data will be transferred to third parties except legal obligation. You can access, rectify and delete your data, as well as exercise other rights by consulting the additional and detailed information on data protection in our Privacy Policy