Since 1972
Events
Prince Of Asturias Awards Ceremony
Sono is the audiovisual supplier of Prince of Asturias Awards
We commission the audiovisual installation at Campoamor Theater, at Reconquista Hotel and Escandalera square in Oviedo.
Campoamor Theater:
Sono is responsible for the simultaneous translation system with Bosch digital equipment including 3 booths for translators and 1600 receivers for attendees and awarded. We also implement a CCTV with 14 monitors and a 42-inch plasma display.
Escandalera Square:
In order the attendees out of the theater to follow the awards ceremony, Sono installs a 22 sqm Barco Dlite7 LEDS screen with an audio system of 12.000 w.
Reconquista Hotel:
We enable another CCTV with the signal from TVE (public spanish TV) and 12 42 and 50-inches plasma screens, spread out through the hotel and also the monitors for press room.
BARCELONA
C/ Progress,29
(Pol. Industrial Almeda)
08940 Cornellá de Llobregat
Barcelona
Tel. +34 934 801 000
E-mail sono@sono.es
MADRID
C/ Sepúlveda, 6 - Nave 26
(Pol. Industrial Alcobendas)
28108 Alcobendas (Madrid)
Tel. +34 916 624 217
E-mail sono@sono.es
SEVILLA
Cartuja Center CITE
C/ Leonardo da Vinci, 7
41092 Sevilla
Tel. +34 916 624 .217
+34 609 564 092
E-mail sono@sono.es
Subscribe to our

Newsletter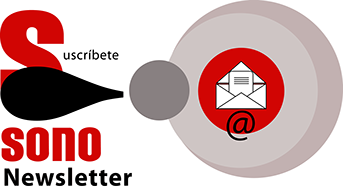 SONO TECNOLOGIA AUDIOVISUAL, S.L. As responsible for the treatment, your data will be processed in order to send you our newsletter with commercial news about our services. The legitimate basis is your consent which you can revoke at any time by notifying lopd@sono.es. No data will be transferred to third parties except legal obligation. You can access, rectify and delete your data, as well as exercise other rights by consulting the additional and detailed information on data protection in our Privacy Policy