Since 1972
Events
Nissan: International Motorshow
From 11th to 19th May in Barcelona 22 brands introduce its last novelties. Among the highlights of the 2013 Barcelona motor show are the new Nissan Juke 1,5 Dci, Note and the LEAF models.
NISSAN entrusted SONO for the installation and management of the audio visual and also for the technical assistance at the different spaces and events of the Motorshow: main tent, press conference, LEAF action with Josep Ajram, tent 'la Roja', LEAF training tent and VIP night.
Among the technology we highlight:
Main tent:
LED screen Barco I6 of 10 meters base, with 5-meter lateral screens.
Videowall 4×4 46-inch Samsung with ultra-thin frame.
Hard disc for contents
Sound system
15 Multimedia Interactive Points of 23-inch Full HD as informative support for the vehicles.
Infoport system for simultaneous translation
Sound system for the vehicle
Press conference:
Live broadcast
Sound system
Telepromter
LEAF action with Josep Arjam:
Live broadcast and recoding with 2 mobile cameras to main tent.
Microphones
Videowall 2×2
Tent 'la Roja': Sound system and microphones
LEAF training and 360º Qashqai tents: monitoring
VIP Night: technical assistance.
BARCELONA
C/ Progress,29
(Pol. Industrial Almeda)
08940 Cornellá de Llobregat
Barcelona
Tel. +34 934 801 000
E-mail sono@sono.es
MADRID
C/ Sepúlveda, 6 - Nave 26
(Pol. Industrial Alcobendas)
28108 Alcobendas (Madrid)
Tel. +34 916 624 217
E-mail sono@sono.es
SEVILLA
Cartuja Center CITE
C/ Leonardo da Vinci, 7
41092 Sevilla
Tel. +34 916 624 .217
+34 609 564 092
E-mail sono@sono.es
Subscribe to our

Newsletter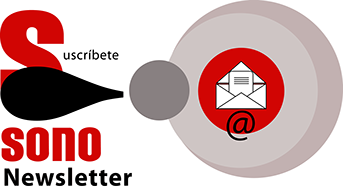 SONO TECNOLOGIA AUDIOVISUAL, S.L. As responsible for the treatment, your data will be processed in order to send you our newsletter with commercial news about our services. The legitimate basis is your consent which you can revoke at any time by notifying lopd@sono.es. No data will be transferred to third parties except legal obligation. You can access, rectify and delete your data, as well as exercise other rights by consulting the additional and detailed information on data protection in our Privacy Policy