Desde 1972
Fixed
Facilities
New Stadium Cornellà-El Prat – Rcde Stadium
Technology employed:
– LED screens: two 6.2×4.5 m outdoor screens. Two image control and management centers. Screen structure.
– Spectacular sound system: 40 speakers, 10 power stages, audio processor with priority for warnings and emergencies, interconnection with the auditorium and access corridors to the field.
– Public address for announcements and emergencies: 456 loudspeakers sounding nine public areas of the stadium and the closest outdoor area, management and control center with redundancy, control system.
– Auditorium: 4 press racks, conference system with 4 delegates and a president, amplification with priority of announcements and emergencies, wireless microphones.
– Interconnection of mobile units with control room: 3 sendings and 3 returns in HDSDI video through fiber optics, 4 sends and two audio returns through fiber optics, converters.
– Control room: image editing system, text editing software, game time management software, composite video and audio distributor.
– Monitors for internal channel: 100 20 " monitors, 36 32 " monitors, 20 52 " monitors and 2 of 50 " monitors, housed in different rooms: boxes, VIP rooms, press booths, boardroom , control room, press room and member service point.
– Mobile equipment: projector, projection screen, public address and microphones.
BARCELONA
C/ Progress,29
(Pol. Industrial Almeda)
08940 Cornellá de Llobregat
Barcelona
Tel. +34 934 801 000
E-mail sono@sono.es
MADRID
C/ Sepúlveda, 6 - Nave 26
(Pol. Industrial Alcobendas)
28108 Alcobendas (Madrid)
Tel. +34 916 624 217
E-mail sono@sono.es
SEVILLA
Cartuja Center CITE
C/ Leonardo da Vinci, 7
41092 Sevilla
Tel. +34 916 624 .217
+34 609 564 092
E-mail sono@sono.es
Subscribe to our

Newsletter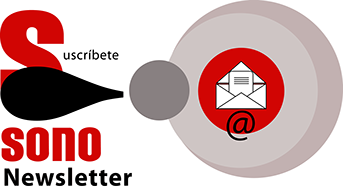 SONO TECNOLOGIA AUDIOVISUAL, S.L. As responsible for the treatment, your data will be processed in order to send you our newsletter with commercial news about our services. The legitimate basis is your consent which you can revoke at any time by notifying lopd@sono.es. No data will be transferred to third parties except legal obligation. You can access, rectify and delete your data, as well as exercise other rights by consulting the additional and detailed information on data protection in our Privacy Policy