Desde 1972
Eventos
Audiovisual services of SONO Tecnología for the presentation press conference of Generación MABS 2019
SONO Tecnología Audiovisual was in charge of offering the equipment and audiovisual assistance for the presentation event of the fifth edition of the MABS, the management event, organized by Atresmedia.
The presentation that took place at Hotel Ilunion Atrium in Madrid brought together some thirty attendees, including various media. This year's is intended to be a call focused on the 'action generation', focused on managers looking for a new way of doing business and managing teams.
Sound and lighting
SONO incorporated two L'ACOUSTIC 108P speakers, six wireless headset microphones, handheld wireless micro, 16-channel digital mixer and a press rack.
For lighting, four Prolight Eclipse LED fresnel, four spotlights for the cons, were used, as well as a DMX splitter, four-channel Prolight Cyber 4 lighting table and truss.
The event, scheduled for the next 5 and 6 July, will be held again at IFEMA Palacio Municipal de Madrid. Among the speakers, relevant and disruptive figures such as Bruce Dickinson, lead singer of Iron Maiden, commercial pilot, business angel, entrepreneur and creative; the writer and economist, Alex Rovira; Nando Parrado, survivor of the tragic plane crash of the Andes in 1972 or the consultant and mentor, Nicole Yershon.
1,200 attendees, 12 inspirational papers, 680 company connected in the same forum and 15 sponsoring brands, among some of the figures from the previous edition. SONO will be one of the collaborating brands this year.
BARCELONA
C/ Progress,29
(Pol. Industrial Almeda)
08940 Cornellá de Llobregat
Barcelona
Tel. +34 934 801 000
E-mail sono@sono.es
MADRID
C/ Sepúlveda, 6 - Nave 26
(Pol. Industrial Alcobendas)
28108 Alcobendas (Madrid)
Tel. +34 916 624 217
E-mail sono@sono.es
SEVILLA
Cartuja Center CITE
C/ Leonardo da Vinci, 7
41092 Sevilla
Tel. +34 916 624 .217
+34 609 564 092
E-mail sono@sono.es
Subscribe to our

Newsletter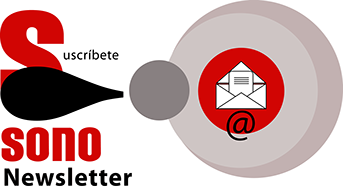 SONO TECNOLOGIA AUDIOVISUAL, S.L. As responsible for the treatment, your data will be processed in order to send you our newsletter with commercial news about our services. The legitimate basis is your consent which you can revoke at any time by notifying lopd@sono.es. No data will be transferred to third parties except legal obligation. You can access, rectify and delete your data, as well as exercise other rights by consulting the additional and detailed information on data protection in our Privacy Policy