Desde 1972
Fixed
Facilities
Lluís Domènech and Montaner House Museum
Remodelling of both the Casa Domènech and the Masía Rocosa, the two buildings that make up this cultural facility.
SONO collaborated very actively in this
– from creating the museum display project to implementing the whole of the project. This included the electrical project, audio-visual engineering and audio-visual production. It also involved producing the furniture and fittings for the museum exhibits and other auxiliary elements for displays, as well as actua – lly choosing and displaying the original pieces.
Some of the more notable technology applied included:
Ultra Slim LCD screens. High definition audio-visual production and the use of the latest professional standard audio- visual equipment
Ultra Slim LCD screens.
Vikuiti high luminosity rear projection screens.
Solid state media servers.
Touchscreen with integrated PC, etc.
Integrated control system with centra – lised switch on and switch off, remote incident viewer and network connection to facilitate maintenance.
BARCELONA
C/ Progress,29
(Pol. Industrial Almeda)
08940 Cornellá de Llobregat
Barcelona
Tel. +34 934 801 000
E-mail sono@sono.es
MADRID
C/ Sepúlveda, 6 - Nave 26
(Pol. Industrial Alcobendas)
28108 Alcobendas (Madrid)
Tel. +34 916 624 217
E-mail sono@sono.es
SEVILLA
Cartuja Center CITE
C/ Leonardo da Vinci, 7
41092 Sevilla
Tel. +34 916 624 .217
+34 609 564 092
E-mail sono@sono.es
Subscribe to our

Newsletter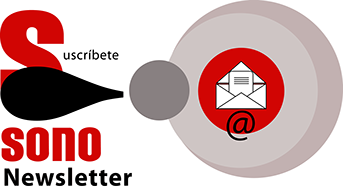 SONO TECNOLOGIA AUDIOVISUAL, S.L. As responsible for the treatment, your data will be processed in order to send you our newsletter with commercial news about our services. The legitimate basis is your consent which you can revoke at any time by notifying lopd@sono.es. No data will be transferred to third parties except legal obligation. You can access, rectify and delete your data, as well as exercise other rights by consulting the additional and detailed information on data protection in our Privacy Policy