Since 1972
Events
The last edition of Fitur had the collaboration of Sono as an audiovisual provider for different institutions and companies.
Fitur is one of the largest meetings for tourism professionals, breaking attendance records year after year. 10,487 companies from 165 tourist destinations, welcomed more than 142,000 professionals and 110,000 visitors from the general public.
Once again, our presence made available to the public attending the fair, both professionals and weekend visitors, the excellence of different regions, countries and tourism providers, narrated in an impressive way through the latest audiovisual technology.
Different stands highlighted their presence with AV elements that ranged from pixel pitch LED screens ranging from 2.8 to 3.9, optimal resolutions for viewing distances and created spaces, as well as "walkable" LED screens of 5.9, creating all of them enveloping and dynamic atmospheres.
Other audiovisual support elements consisted of a 46 "plasmawall, public address systems, light and sound for concerts, thus offering an integral service in audiovisual matters, as we have been doing for 50 years, providing technological and human resources accustomed to working with the most advanced technology with top-level brands such as Absen, Yestech, Nexo, L ́Acoustic, Roland, Apple, HP, Shure, AKG, Allen & Heath, Samsung, SoundCraft, adjusting to the strictest levels of demand, complying scrupulously with all time.
BARCELONA
C/ Progress,29
(Pol. Industrial Almeda)
08940 Cornellá de Llobregat
Barcelona
Tel. +34 934 801 000
E-mail sono@sono.es
MADRID
C/ Sepúlveda, 6 - Nave 26
(Pol. Industrial Alcobendas)
28108 Alcobendas (Madrid)
Tel. +34 916 624 217
E-mail sono@sono.es
SEVILLA
Cartuja Center CITE
C/ Leonardo da Vinci, 7
41092 Sevilla
Tel. +34 916 624 .217
+34 609 564 092
E-mail sono@sono.es
Subscribe to our

Newsletter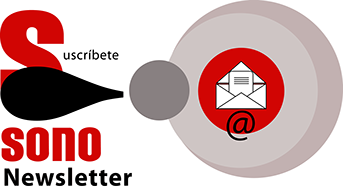 SONO TECNOLOGIA AUDIOVISUAL, S.L. As responsible for the treatment, your data will be processed in order to send you our newsletter with commercial news about our services. The legitimate basis is your consent which you can revoke at any time by notifying lopd@sono.es. No data will be transferred to third parties except legal obligation. You can access, rectify and delete your data, as well as exercise other rights by consulting the additional and detailed information on data protection in our Privacy Policy