Since 1972
Events
Fina World Championships: Barcelona
Last summer Barcelona hosted the 15th FINA World Championships: Barcelona 2013. SONO collaborated with the audiovisual equipment, as it did in the Swimming World Championship in 2003, also in Barcelona.
Services:
Rental and installation of audio-visual equipment in Palau Sant Jordi and Port Vell.
Technology employed:
Palau Sant Jordi:
Background for award ceremony:

1 LEDS screen BARCO i6 Black with 140 tiles

Exit athletes:

1 LED screen BARCO i6 Black with 42 tiles, including system to shift it for the exit of swimmers.
1 LED screen Kinesic 10 mm resolution of 25 sqm placed on the ground, with diffusors so that athletes could walk on it.

Training swimming pool:

1 plasma 103'' screen
Press Room: 1 plasma 103'' screen and sound system
Port Vell:
1 LED screen truck with 30 sqm of 10mm-resolution screen with radio link.
Sound system for open water and high diving competition zone: 2 towers 6-meters-high with line array, 16 Meyer M'elodie, and P.A. for the stands with Nexo PS8, PS10 and PS15, digital mixer and different microphones.
Sound system for press room.
BARCELONA
C/ Progress,29
(Pol. Industrial Almeda)
08940 Cornellá de Llobregat
Barcelona
Tel. +34 934 801 000
E-mail sono@sono.es
MADRID
C/ Sepúlveda, 6 - Nave 26
(Pol. Industrial Alcobendas)
28108 Alcobendas (Madrid)
Tel. +34 916 624 217
E-mail sono@sono.es
SEVILLA
Cartuja Center CITE
C/ Leonardo da Vinci, 7
41092 Sevilla
Tel. +34 916 624 .217
+34 609 564 092
E-mail sono@sono.es
Subscribe to our

Newsletter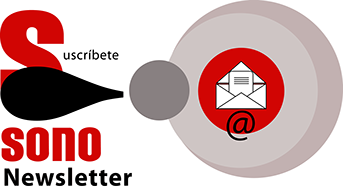 SONO TECNOLOGIA AUDIOVISUAL, S.L. As responsible for the treatment, your data will be processed in order to send you our newsletter with commercial news about our services. The legitimate basis is your consent which you can revoke at any time by notifying lopd@sono.es. No data will be transferred to third parties except legal obligation. You can access, rectify and delete your data, as well as exercise other rights by consulting the additional and detailed information on data protection in our Privacy Policy