Since 1972
Events
Dinner ́48H With Telefónica ́
A themed dinner in which the over 600 attendees were transported into a midsummer night's dream via aerial acrobatics, live performances and shows.
Services provided:
SONO, working through the agency QUUM COMUNICACIÓN, participated actively in the event providing technical assistance for the audiovisual services installed, which included projections, music, stage lighting and video playback.
Technology employed:
30,000 lumen projection onto a 20m water screen.
Projections onto material stretched between trees and onto the facade of the building, all managed through the Barco Folsom Encore system.
24kw frontal line array sound system using Meyer speakers and 16 Nexo PS 15 speakers for perimeter sound to provide special sound effects for a unique atmosphere.
Spectacular lighting with mobiles in the woods.
Helium balloons with 4 kw lighting.
Smoke machines.
Two cameras for live playback.
BARCELONA
C/ Progress,29
(Pol. Industrial Almeda)
08940 Cornellá de Llobregat
Barcelona
Tel. +34 934 801 000
E-mail sono@sono.es
MADRID
C/ Sepúlveda, 6 - Nave 26
(Pol. Industrial Alcobendas)
28108 Alcobendas (Madrid)
Tel. +34 916 624 217
E-mail sono@sono.es
SEVILLA
Cartuja Center CITE
C/ Leonardo da Vinci, 7
41092 Sevilla
Tel. +34 916 624 .217
+34 609 564 092
E-mail sono@sono.es
Subscribe to our

Newsletter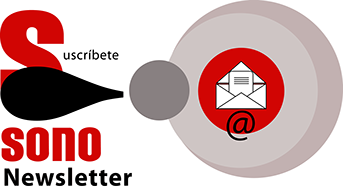 SONO TECNOLOGIA AUDIOVISUAL, S.L. As responsible for the treatment, your data will be processed in order to send you our newsletter with commercial news about our services. The legitimate basis is your consent which you can revoke at any time by notifying lopd@sono.es. No data will be transferred to third parties except legal obligation. You can access, rectify and delete your data, as well as exercise other rights by consulting the additional and detailed information on data protection in our Privacy Policy