Desde 1972
Events
2018 Gas Natural Fenosa Shareholders Meeting
Complete audiovisual coverage for Gas Natural Fenosa General Shareholders' Meeting
Sono Tecnología Audiovisual took care of facilitating the complete audiovisual coverage for the General Shareholders' Meeting of Gas Natural Fenosa in an event that brought together more than 1.200 people. Technical service as well as AV equipment and systems were provided for the realization of the event in IFEMAs auditorium and seven additional spaces.
Overlap projection for the central ultra-panoramic screen
Main stage of auditorium consisted in a 15 meters base screen per 3,25 meters high, with ultra-panoramic format, where contents created specifically for the event and corporate videos showed were projected as well as the live broadcast of the event.
To each side of the central screen were placed two complementary screens, also with the same technology of UHD projection, working with colorimetry and the light power, to create an immersive effect in consonance with stage scenery design. Video processor BARCO E2 was used to send and manage contents to different monitors as well as Watchout system.
The core set was completed with installation of ten 24-inches monitors for the presidency table.
El conjunto central se completó con instalación de 10 monitores de seguimiento de 24" para la mesa de presidencia.
The realization of the event was carried out with a rack of 5HD cameras and a robotic camera which was installed in trusses and micro cameras to monitor the different parliaments of experts focused on the presidential and lectern area.
Audio professional services, language interpreting system and creative lightning design
Sono relied in L'Acoustic audio equipment for the sound coverage of the event. Two PA were installed on the ceiling with 12 acoustic enclosures to ensure sound reinforcement. Equipment was processed digitally to achieve sound pressure sui- tability in every space of the auditorium and prioritizing uniformity of power and intelligibility. It also included five acoustic enclosures for each side having 4 Infield, 4 Frontfield and 2 Sidefields. In addition, 8 subwoofers were placed as support for the PA.
Two lapel microphones were facilitaed for presidential area, four desktop microphones and two more lectern michophones.
A digital mixer MIDAS PRO 1 with 48 channels was used to manage all integrated audio system.
In this occasion, a study of white light was contemplated for the stage, as well as spectacular ligthning and creative accompaniment for the differnt scenes. They were used:
12 moving hads as main lights
6 elements for contrast
24 fixed spotlights to give light to lead in scenes
12 moving Wash Booster heads
27 wireless Smart Bart for corridors
La junta contó con servicio de traducción simultánea con cabina doble y 150 receptores repartidos en cada lateral de acceso al auditorio, sala vip y presidencia.
Complete audiovisual equipment for adjacent rooms
4:3 projection was provided on a screen of 9:35 m2 so that journalists could follow the development of the Board in a press room with capacity for 90 people and with 80 audio jacks available.
The equipment for the Consejo room vas also enabled (95-inches screen with floor support and perimeter audio), the Neptuno room (with an Absen A3 3.9 mm pixel pitch LED screen on stage), Colón room (with installation also of Absen A3 3.9 mm pixel pitch LED screen), 80-inches monitor with standing support for the Experts' room located behind the stage area and installation of a 2.5 x 6.5 meters totem-shaped LED display of 3.9 mm pixel pitch in the hall entrance, reinforced with large LED screen of 8 x 2.5 meters, also 3.9 mm pixel pitch and managed with player Watchout system.
Gas Natural Fenosa took advantage of the meeting with its shareholders to reinforce the recent change in its Brand image through the different audiovisual impacts.
BARCELONA
C/ Progress,29
(Pol. Industrial Almeda)
08940 Cornellá de Llobregat
Barcelona
Tel. +34 934 801 000
E-mail sono@sono.es
MADRID
C/ Sepúlveda, 6 - Nave 26
(Pol. Industrial Alcobendas)
28108 Alcobendas (Madrid)
Tel. +34 916 624 217
E-mail sono@sono.es
SEVILLA
Cartuja Center CITE
C/ Leonardo da Vinci, 7
41092 Sevilla
Tel. +34 916 624 .217
+34 609 564 092
E-mail sono@sono.es
Subscribe to our

Newsletter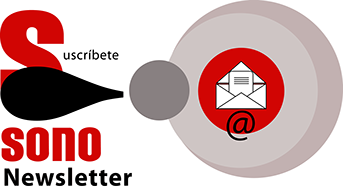 SONO TECNOLOGIA AUDIOVISUAL, S.L. As responsible for the treatment, your data will be processed in order to send you our newsletter with commercial news about our services. The legitimate basis is your consent which you can revoke at any time by notifying lopd@sono.es. No data will be transferred to third parties except legal obligation. You can access, rectify and delete your data, as well as exercise other rights by consulting the additional and detailed information on data protection in our Privacy Policy